Michael's Chicken Cacciatore
February 27, 2019 | By Mike Gonet | Filed under: Family Recipes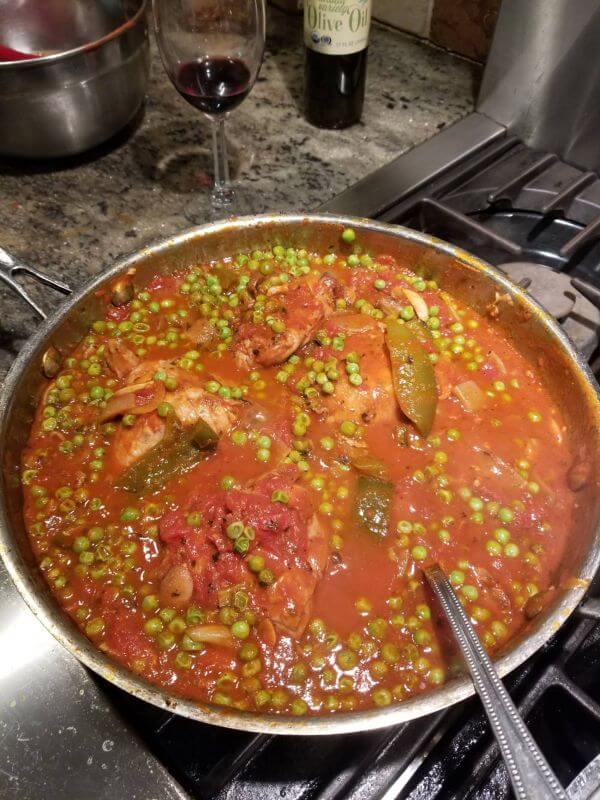 Nothing says Italian like my Chicken Cacciatore. This easy to prepare savory meal will have you coming back for seconds.
Serves 4 comfortably
Prep time: 15 minutes
Cooking time: 45 minutes
Ingredients list:
1 chicken divided or 8 pieces of your choice.
½ a jar of Pastene sweet vinegar peppers chopped into 1"x1" pieces*
3 tbs of olive oil
2 tbs of dried oregano (divided)
2 tbs of dried basil (divided)
3 cloves of garlic, chopped
1 med yellow onion, roughly chopped
1 box of fresh crimini 8 oz mushrooms, sliced
1 28 oz can of whole San Marzano plum tomatoes, mashed*
2 cups of frozen peas (optional)
2 tsp salt (divided)
2 tsp fresh ground black pepper (divided)
½ half cup of red wine (Chianti would be my choice)
Grated Romano cheese, as needed
Directions:
Season the chicken pieces with ½ the salt, pepper, oregano, and basil.
Heat up oil in a large sauté pan, then brown all the chicken pieces for about 4 minutes on each side. Take the chicken out and reserve in a bowl.
Place the mushrooms, vinegar peppers, onions, the remaining salt and pepper in the pan, and sauté for 5 minutes.
Add the garlic and sauté for 2-3 more minutes.
Stir in the wine.
Add the chicken back into the pan.
Add the mashed tomatoes.
Add the remaining oregano and basil.
Cover and cook on simmer for 45 minutes.
Optional: 10 minutes before finished, add the frozen peas. Note, if you don't add the peas, serve with a side vegetable or salad.
This dish can be served with or without pasta. Top with grated Romano cheese. Complement with a nice Italian table wine.