Pan Seared Fresh Fish
May 10, 2019 | By Mike Gonet | Filed under: Family Recipes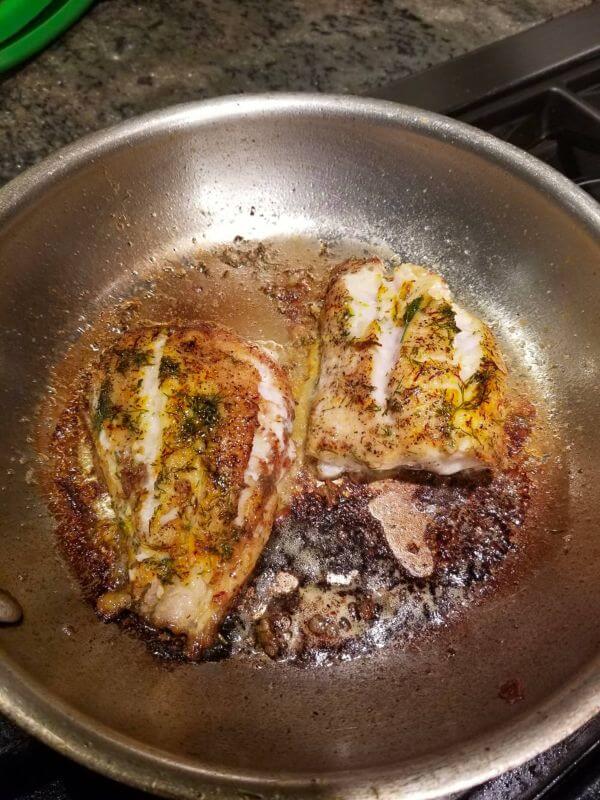 Fresh caught fish is a staple around here and nothing fits the bill better than "pan seared". This is a very simple recipe and can done with a variety of fish filets. (I recommend Striped Bass, Red Snapper, Haddock, Cod, Halibut or Grouper.) It's always better to get a piece of fish an inch or thicker.
The seasoning can vary depending on the ethnicity of the meal you want to present.
The one pictured was done in a Greek Style. I have a saying about preparing fish….."You don't cook it, you threaten it!" In other words, DON'T overcook, you will be disappointed. The rule of thumb is about 8-10 minutes per inch of thickness (4-5 minutes per side depending on the density of the flesh of the fish).
Serves 2
2, 6 oz pieces of Striped Bass
Seasoning
Salt and pepper to taste
1 tsp fresh dill, chopped
1 tsp fresh oregano, chopped
1 tsp fresh parsley, chopped
1 pinch saffron, crumbled
1 clove garlic, diced (optional)
1 tsp shallot, diced (optional)
1 Tbsp unsalted butter or olive oil for searing
½ of a lemon
Directions
Season the filets on both sides with all the seasoning, reserve the lemon for the end of the cooking process.
Heat up a stainless-steel sauté pan on medium heat for a 5 minutes until hot. Place the filets in the pan and cook for 4-5 minutes, then turn them over. Cook for another 2-3 minutes, squeeze the lemon over the fish, and then finish cooking.
Plate and serve with a nice Greek style salad with fresh goat cheese or feta. A glass of your favorite Mediterranean semi-dry white wine will be the perfect pairing.