Lollipop Lamb Chops
April 7, 2020 | By Mike Gonet | Filed under: Family Recipes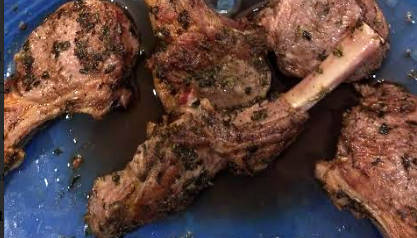 Spring is all about the Lamb, and nothing beats these delicious quick and easy lamb chops for a special event or just because you want a GREAT meal. This is one of my favorite meals.
1 rack of lamb, cut and evenly divided into 8 rib chops (Tip: By the way, Trader Joes has the best deal on New Zealand spring rack of lamb) *Disclosure: I do not own stock in Trader Joes.
Serves 2
Prep time 15 minutes.
Cooking time about 5-8 minutes
At least 6 hours before you cook them, season liberally with salt, pepper, garlic, rosemary, thyme, and parsley. You can use fresh herbs or dried, adjusting for taste. I would use a tablespoon of freshly chopped of each if dried, a heaping teaspoon of each. Add 2 Tbs of olive oil and ½ cup of wine. (I use a good pinot noir, save the rest for the meal) Place all in a plastic bag and refrigerate. Place the bag in a bowl and rotate the bag every now and then to evenly marinate.
To cook:
Heat up a stainless-steel pan or cast iron (medium to high heat) and remove the chops from the marinade, place them in the pan for 2-4 minutes, and then turn over and cook for about 2-4 minutes.
You're ready to serve! (2-4 minutes depending on how rare you like your meat)
I usually have rice and sautéed asparagus as side dishes with this meal.
Enjoy this with a glass of the reserved pinot noir!