This month's family recipe is everyone's favorite: Mexican "Open Faced Tortilla"!
July 9, 2018 | By Mike Gonet | Filed under: Family Recipes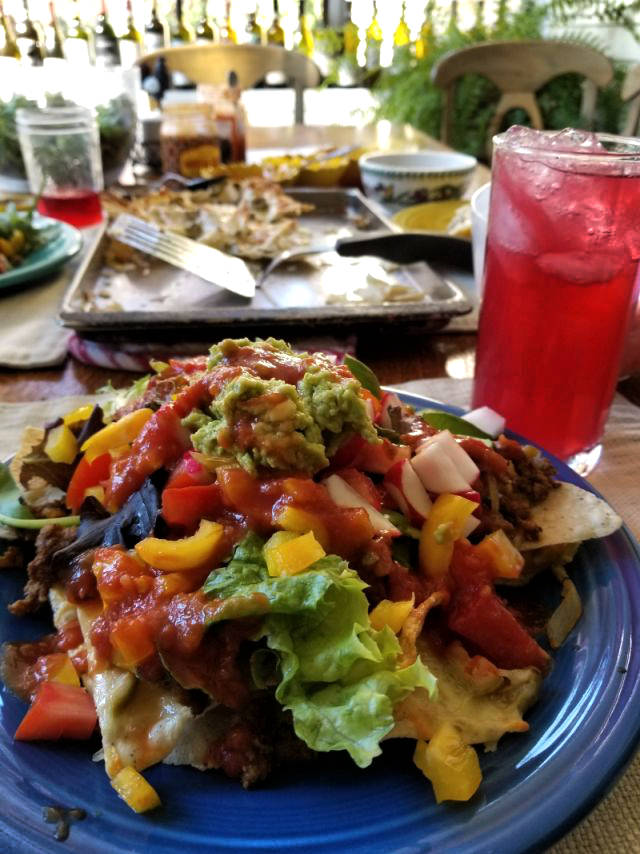 I love Mexican food. Terrific flavors and textures that blend together for a delightful sensation for the pallet. Nothing beats this meal on a hot summer's evening with my signature Hibiscus Margarita.
When I became "paleo, it regrettably limited my ability to enjoy Mexican food. This is my take for those who want to limit their carb intake and cheat just a wee bit on dairy (Note: the dairy can be eliminated).
Don't be intimidated by the list of ingredients or steps, you can whip this up in 30 minutes!
Fresh toppings (optional):
Diced tomato
Shredded lettuce
Thinly sliced radishes
Chopped bell peppers
Additional toppings (optional):
Guacamole (see recipe below as an option)
Salsa
Cheese (I used raw milk Jack) or a shredded Mexican blend
Spanish Manzanilla olives
The tortilla chips:
I use cassava chips instead of the traditional corn chips ("SIETE" grain-free chips).
You can use corn chips or make traditional tacos with this recipe as well.
Instructions for the Meat:
Seasonings for the meat:
2 tsp of dry oregano
1 tsp chili powder
1 tsp salt
½ tsp ground black pepper
1 tsp cumin
Mix well and reserve.
Optional: You can also use Trader Joes taco seasoning if you're not so ambitious.
Cooking the meat:
1 fresh jalapeno pepper, diced (optional)
1 small can of fire roasted green chiles (Trader Joes 4 oz or equivalent)
1 small onion, diced
1 tsp minced garlic clove
Your choice of one pound of meat. I suggest a grass fed pastured ground beef (80/20). I have also used sliced or diced steak, chicken, and even fish (May substitute a vegetarian option, as well).
On your stove top burner, place the ground meat in a skillet and brown. Then add the onions, garlic, canned peppers, and meat seasonings after the meat has browned. Cover and let simmer for 15 minutes.
Use discretion if using steak or fish. You will want to sauté that first and reserve as that only takes a few minutes. Cook veggies and seasonings and mix in the steak or fish at the end to just heat it up and serve immediately.
The Process:
Preheat the oven to 325 degrees.
Cut up the fresh ingredients.
Grate the cheese or use pre-shredded.
Place the chips on a baking sheet, sprinkle with the grated cheese, top with the Spanish diced olives, and bake for about 6 minutes. (You'll want to time it so the meat and chips are done about the same time.)
Serving:
I serve everything on the table separately, so your guests can put whatever they want on their plate!
I start with the chips, then add the lettuce, then a mixture of the toppings with a dollop of guacamole on top, then drizzle salsa over everything.
Serve with my go-to Hibiscus ice tea or make my signature Hibiscus Margarita (see below).
Additional Optional Recipes!
Hibiscus Margarita
Fill a shaker with ice.
Add 2 shots of your favorite Tequila (mine is Patron)
1 shot of your favorite orange liqueur (Cointreau is my choice)
Juice of a small lime (1/2 shot)
3 shots of Hibiscus ice tea (unsweetened)
8 drops of Stevia (or ½ shot of simple syrup)
Shake well pour into a tall ice tea glass with ice with a salted rim (optional)
Enjoy!
Easy Guacamole Recipe
2 ripe med avocados mashed
1 tsp garlic cloves finally diced
1 small lime, juiced
1/2 tsp salt
½ tsp of black pepper
Tabasco or your favorite hot sauce to taste
1 Tbsp fresh cilantro
Mix well, chill, and serve.