Custom Gutters
Durable Custom Gutters for Our Roofing Customers
We offer durable custom gutters exclusively to our roofing clients. We make Classic Gutters with high-quality materials that match your new Classic metal roof's high quality and color finish.
Installed at the same time as your new metal roof, our crews are already on the job and know exactly how to measure and place. Secured just like your new roof with appropriate, rust-free fasteners, the integrity of your roof installation is maintained.
Key Features of Classic Custom Gutters
.032 aluminum or copper materials
Aluminum Kynar finish matching any color roof we install
Available in 5 inches and 6 inch
K style, Half Round, and Box
Round or Rectangular downspouts
Leak-free
Gutters won't corrode or rust
Made from recycled materials and completely recyclable
Designed specifically for your home, our Classic Custom Gutters are ideal for your property. The installation of color-matched or copper gutters will add beauty and curb appeal to a necessary part of your roof, protecting your home from water run-off and basement leaks.
K Style Gutters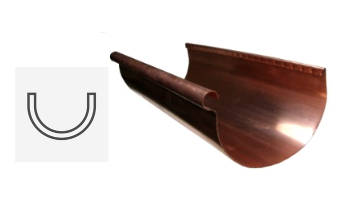 Half Round Gutters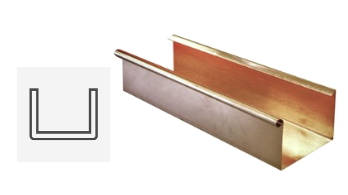 Box Style Gutters