Can Metal Roofing Withstand Hurricane Force Winds?
January 6, 2022 | By Mike Gonet | Filed under: Blog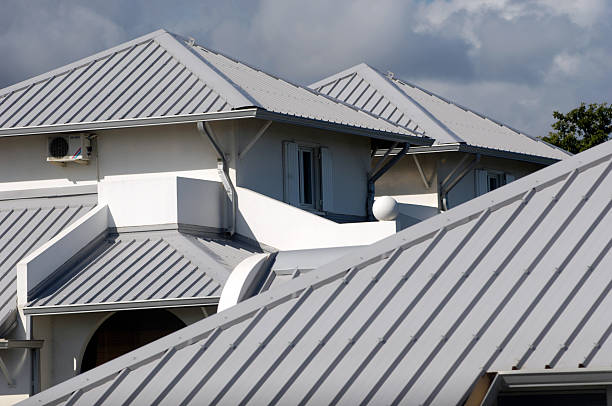 Although we don't think of New England as a place where we have to worry about hurricane wind damage very often, with the potential of climate change, we need to start thinking about it on a more frequent basis. One of the reasons that metal roofing has become one of the most popular roofing products in coastal areas is because of its strength and durability against strong hurricane-force winds. Metal roofs also hold up against strong winds like blizzards, nor'easters from other weather events, making these roofs a good choice for areas prone to inclement mother nature's most wicked winds.
Why Is Metal Roofing Better than Asphalt Shingles Against Storm Damage?
Here in the northeast, we tend to think first about snow and ice storms. Both do significant damage to roofs every year. However, homes with metal roofing see far less to no damage due to ice dams. Whereas roofs with asphalt shingle are prone to water infiltration and major damage due to a weather-related event. We experience hail damage every summer, which can accompany a thunderstorm, hurricane and everything in between. Metal roofing outperforms asphalt shingle roofing against hail, too. In fact, some metal roofs have a class 4 hail rating, the highest in the roofing industry.
Strong Winds Arrive with Weather Events
With extreme climate change, we're seeing more tropical storm-force winds and hurricane threats in the northeast. Thunderstorms, tropical storms, depressions, and hurricane wind damage can include everything from ripping the roof off your home to tree limbs falling through the roof. In wind uplift testing, metal roofing withstands weather events more than asphalt does significantly. In tests performed by the Metal Roofing Alliance, metal roofing showed that it can withstand gusts up to 180 mph and 140 mph sustained hurricane-force winds when installation is done with the correct method.
A Classic Metal Roof is a Lifetime Metal Roof
A metal roof from Classic Metal Roofs is the last roof that you will ever need. Even in the event of a hurricane hitting our area or other damaging weather, if you have metal roofing on your home, you're not likely to have catastrophic hurricane wind damage. In fact, you're less likely to incur any type of storm damage. Metal roofing isn't prone to the type of roof collapses that you see in asphalt roofing, which means that it protects all of your belongings under your roof and in your home. It is also more fire-resistant than most other roofing materials.
The Benefits of Metal Roofing Are Clear
When you need a new roof, consider a Classic Metal Roof – the best roof under the sun. Not only is it strong against hurricane wind damage, but also against storm damage from hail, ice and snow. Your insurance company may even offer a discount on your homeowners' insurance because you choose durable metal roofing.
Classic Metal Roofs installs these types of metal roofing throughout New England in MA, RI, CT, and NH. If you would like a free consultation for the "best roof under the sun, wind, and rain" or have questions about metal roofing and why it's the best choice to protect your home from many types of damage including hurricane wind damage, call us today at (866) 537-6654 or fill out our contact form.