Aluminum Metal Roofing Versus Asphalt Roofing
May 2, 2014 | By Mike Gonet | Filed under: Articles, Education, General, Metal Roofing
We consistently attempt to convey the many long-term advantages of aluminum metal roofing compared to the long-term disadvantages of asphalt roofing. However, many homeowners express intense concern as to whether or not these long-term returns actually amount to a worthy investment compared to multiple asphalt roofing installations throughout the duration of their time in the given home. If lifetime aluminum metal roofing is 2 ½ – 3 times the cost of asphalt roofing, and an asphalt roof lasts, on average, 16 years…would it not just be wise to get an asphalt roof replacement a couple times throughout your lifetime and save yourself the money? What many homeowners do not realize is that aluminum metal roofing is not some expensive product that is merely a status symbol for showing off – although the upfront cost is expensive, it is for everyone. If you can afford an asphalt roof, you should be able to afford a metal roof. Why?
We will exhibit and explain one simple fact, and, according to many misinformed asphalt roofing contractors, a difficult truth to embrace: aluminum metal roofing is ultimately cheaper than asphalt roofing! Isn't that a contradiction to what was explained earlier in regards to cost? No – because there is a major dichotomy between upfront cost and long-term cost. The overall long-term cost of an aluminum metal roof is actually less expensive than asphalt roofing.
First, consider the fact that the improved home resale value will be an additional 1% – 6% with aluminum metal roofing compared to asphalt roofing.
Second, homeowners receive, on average, about an 85% return or more of the cost of their metal roof once they sell and as much as 95% here in the eastern states. Homeowners with metal roofs will save about 25% or more on heating and cooling costs; though, keep in mind that many homeowner insurance companies will provide policy discounts in certain areas of the country because these metal roofing options are so resistant, durable, environmentally friendly, and energy efficient.
To truly understand the savings associated with aluminum metal roofing compared to asphalt roofing, let's consider two imaginary consumers: "Asphalt Al" and "Metal Mike," both owning identical New England homes withstanding a market value of about $350,000 each.
"Asphalt Al" does not like to use his brain. He does not know how to handle money, and does not care about planning for a stable, secure, and worry-free future. Have you ever seen the movie "Tremors," where Fred Ward says to Kevin Bacon: "Your problem is, you don't plan ahead. … Look at me, it's Monday, and I'm already thinking about Wednesday!" These two characters are a perfect description of Al's modus operandi. His current asphalt roof is tumbling down and instead of preventing future problems from adding themselves to his already problematic life, he signs a $12,000 contract for another asphalt roofing installation. His reasoning is defined by the fact that asphalt roofing is less of a dent out of his bank account right now, because the upfront cost was about a third of the price of the proposed metal roofing estimates he received.
"Metal Mike" on the other hand, has a thoroughly planned investment portfolio and savings account, as well as a college and retirement fund. Mike understands he is not that wealthy of a man; however, he trusts that his meager savings can slowly prepare himself for a more secure future one step at a time. Unlike Al, Mike goes ahead and "bites the bullet" and buys a $30,000 aluminum metal roof.
If Mike were to put his home up on the market immediately after installation, his home would now be worth about $370,000 – while Al's home is still worth $350,000, even with his brand new asphalt roof. Remember, Al spent $12,000 on his asphalt roof, so figure he gets a grand total of $340,000 return when he sells his house. Mike spent $30,000 on his roof; however, he will likely recoup the money put into the roof based on the real estate market for your area.
Understand also that if Al and Mike were to sell their homes immediately after the installation, Mike's would likely sell first because his maintenance free metal roof will never have to be replaced again.
Even if you are worried that you might be putting your home on the market too soon, you still have absolutely nothing to lose when getting a metal roof – and you have everything to gain if you decide instead to stay in the house long-term. Consider, as well, that an aluminum metal roofing system is practically maintenance-free. Any problems associated with asphalt roofing (and its susceptibility to the elements of nature) can be totally avoided with an aluminum metal roofing system. You will generally never have to worry about your roofing again with an aluminum metal roof.
Now, most importantly, let's consider the more common scenario, one where Mike and Al were to stay in their homes for the next 10 years or more.
Winter is coming to "Asphalt Al" and "Metal Mike." The weather forecast predicted a snow shower resulting in 2 inches of accumulated snow. Those 2 inches of snow turn into 2 feet. Al steps outside his house when the storm is finally through and sees 2 feet of snow piled on his roof. New England is known for its erratic weather, and it looks like it is supposed to be warm and sunny tomorrow.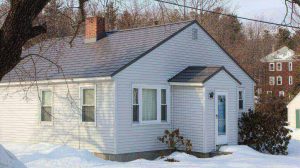 Because Al (knowing Al), never thinks ahead, he does not realize it is supposed to be below freezing temperatures a few days later. Classic Al. Because Al has insufficient attic ventilation, the snow on his roof melts, seeps underneath his asphalt shingles, and freezes. Looks like Al now has a case of the ice dams! New England gets hit with another blizzard with a couple more feet of snow. Al now has ice dams and 2 feet of snow piled on his roof. Al comes home from work that day only to find out that his brand new roof has failed. Water is running down the walls and on to the hardwood floors of his home. This cycle continues year after year until Al wises up and invests in a roof rake. Now Al has another job every time it snows: rake the roof. Al cannot leave his house in the winter and get away to a warmer climate either. His roof has held him hostage. "What if it snows while I'm gone? Ice dams could form, and I could come home to a big mess again."
"Metal Mike," in contrast, is sitting by his fireplace and sipping on a hot coffee. In his slippers, he steps outside to take a look at his beautiful new metal roof. Though his property is surrounded by walls of snow due to the erratic New England weather, his new metal roof is spotless. Come summer, Mike's roof is keeping his house much cooler, averaging about 25% savings a month on energy costs. Mike understands that this roof not only is going to last him a lifetime, but in great accordance with that, the longer he has this roof, the more he is going to save – not only money, but time and aggravation. The longevity pays off.
Life is good – for metal Mike …