The Drawbacks of Asphalt Shingles
March 29, 2018 | By Mike Gonet | Filed under: Roofing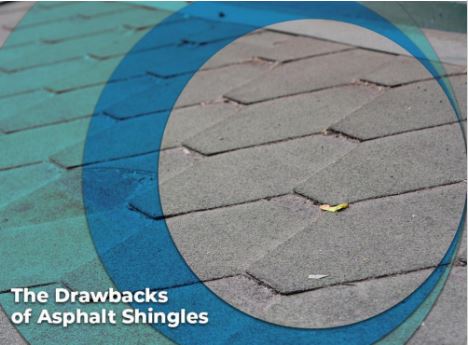 Choosing the perfect roofing material for your home can be a daunting task. It's a significant investment, after all, and you'll only have to replace the system at least once or twice in your lifetime. This is why you have to choose the one that will provide many years of protection and comfort.
Among the options on the market, there's one material that may be very popular, but it has inherent disadvantages: asphalt shingles. Today, Classic Metal Roofs, one of the most experienced metal roofers in the area, discusses why asphalt shingles are may not be the best choice when compared to others:
Easily Sustains Damage
Standard asphalt shingles are vulnerable to nearly all kinds of weather conditions. They can be easily blown off by strong winds and worn down by fluctuating temperatures. They also tend to absorb more heat, which can cause your air conditioning units to work harder. As a result, you have to spend more on your energy bills.
Aluminum metal roofing, on the other hand, is impervious to almost anything that mother nature throws at it. It can resist intense storms and still remain in great shape for many years. It's also energy-efficient, thanks to its high reflectivity. Not only does it contribute to your comfort, but it helps with your cost savings, as well.
Shorter Life Span
While it's true that asphalt shingles come with an affordable price tag, you'll need to replace them on average, every 17 years, causing your costs to eventually pile up. Meanwhile, aluminum metal roofs can last up to 100 years or more. This means you may never have to invest in a new roof again. As your premier metal roofing company, we'll be sure to provide exceptional workmanship for the best results.
Environmental Concerns
Because most asphalt shingles have a short service life, they greatly add to landfill waste. Fortunately, aluminum metal shingles and standing seam roofs are made from a high percentage of recycled materials and can be recycled again when it's past its prime. Furthermore, it can help reduce your carbon footprint to mitigate the urban heat island effect.
As the area's top metal roofing company, we can give you the best value for your money with our excellent solutions. Give us a call at (866) 303-2002 to learn more about our products and services. We serve homeowners, builders and architects throughout Southern New England with offices in West Warwick, RI, East Berlin Ct, Stow, MA and Nashua, NH. We are now serving Westchester County, NY.