A Look at Standing Seam Metal Roofing
October 25, 2019 | By Mike Gonet | Filed under: Blog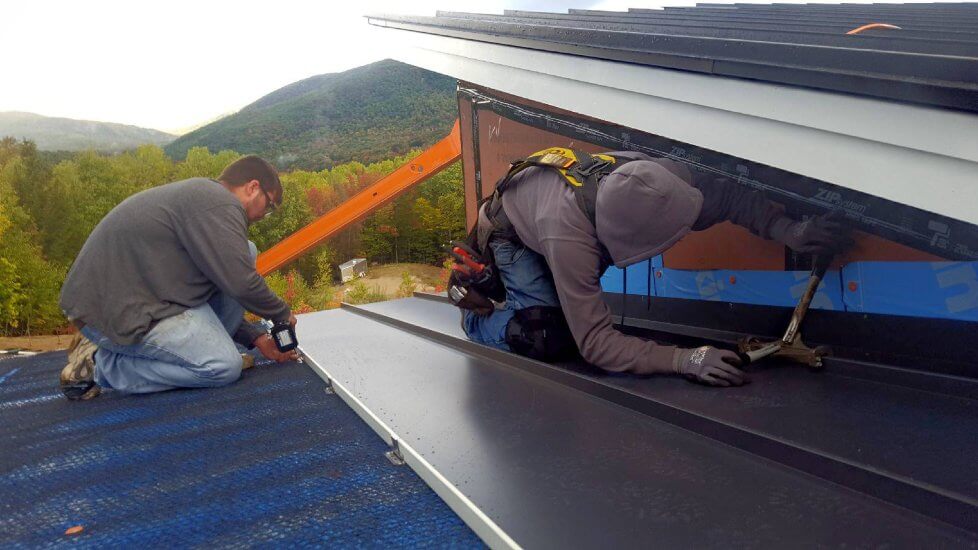 Standing Seam Metal Roofing
Standing seam metal roofing systems are characterized by panels running vertically from roof ridges to eaves. There is a raised seam on each edge. The seams range anywhere from 1" to 2" in height. Panels are interlocked at these seams. The roof is attached with clips that go over the seam and attach to the roof. The spacing of these clips is crucial. Also, the number of screws in these clips should be more than one. The clips end up getting hidden under the roof as the next panel will cover the clips on the previous panel. There are two basic locking methods to secure the roof. One is a snap or click lock system; the second is a mechanical lock system that requires special tools. The latter is typically used only in very low sloped roofs.
Product Advantages
One of the best things about standing seam metal roofing is that it is highly durable, effectively withstanding harsh weather, but is still easy to maintain. In fact, even with minimal care, it can last 100 years. These roofs are lightweight, fire-resistant, and recyclable, and won't rot, warp or crack, even with constant temperature changes. These roofs are also bulletproof when it comes to ice dam issues. As energy-efficient roofing options, standing seam metal roofing and metal shingle roofs are great at helping ease cooling requirements in homes. They also keep a home slightly warmer in the winter months.
Available Options
Panels can be cut on-site or pre-formed in the factory, available in various colors, thicknesses, and material options. Architectural metal roofs are made of aluminum, copper, and zinc base metals. A properly coated aluminum roof also offers the added benefit of corrosion resistance, making it ideal in coastal areas. For those not only looking for longevity, you can consider copper roofs or zinc roofs, which also last for over 100 years but are also more expensive.
When it comes to quality metal roofing installation, don't look further than Classic Metal Roofs. As trusted metal roofing experts in Southern New England, we have the expertise and experience you need to make the most of your investment into metal roofs. To learn more about standing seam metal roofing and what we can do for you, simply give us a call at (866) 660-6668 or use our Free Consultation form for "the best roof under the sun and snow". Ask us for a FREE quote today! We serve homes in all of MA, RI, CT, and NH communities.