New England Standing Seam Metal Roofing
July 28, 2022 | By Mike Gonet | Filed under: Blog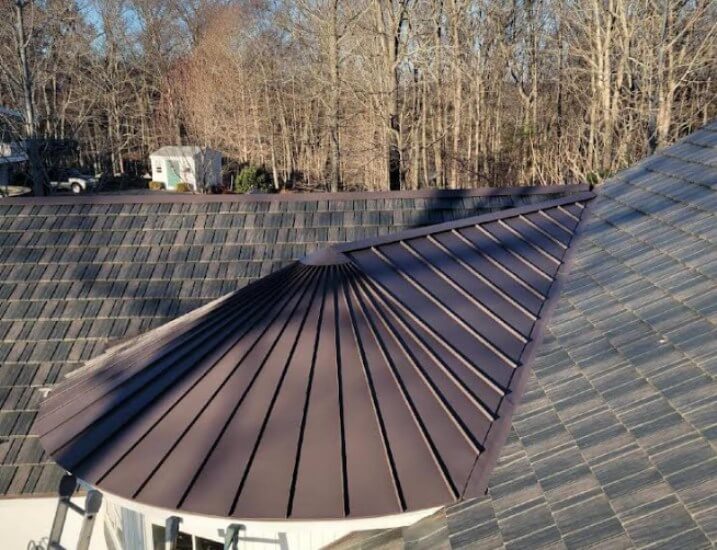 Standing Seam Metal Roofing
One of the most classic of metal roofs is standing seam metal roofing products. If you're considering a metal roof for your home but aren't sold on standing seam roofing, we want you to take a closer look. It offers many benefits and a classic look.
What is Standing Seam Metal Roofing?
There are many styles of metal roofing. Standing seam is among the most classic of metal roofs when it comes to style. In order for a roofing product to have this classification, it must be a metal panel system roof with concealed fasteners. The seams must also be raised, hence the "standing" seam. However, just because you're looking a standing seam roofing from different roofers, doesn't mean all the roofs are going to look the same.
Benefits of a Standing Seam Metal Roof
Although it will look different than your asphalt shingle roof, it does add curb appeal to any home. However, more than that, it's extremely durable and long-lasting. Most metal roofs last 4 times as long as an asphalt shingle roof or longer. Of course, because they're metal, they have greater fire resistance than other roofing materials and that may mean your homeowner's insurance company offers you a discount. 
Many homeowners also love the fact that a metal roof is more energy efficient than other roofing materials. This applies to both standing seam, shingle, and other styles of metal roofing. You may be surprised to learn that it also will increase your home's value. According to some surveys, as much as 6% over an asphalt shingle roof.
Many Color Options
If you're picturing a metal roof that's silver in color, that is an option for your home. However, you can find standing seam metal roofing in many colors from dark to bright. Most all colors are even ENERGY STAR® rated. Lighter colors may provide you with even greater energy savings.
Classic Metal Roofs Offers Free Roof Replacement Estimates
With offices in Massachusetts, New Hampshire, Connecticut, and Rhode Island we provide roof replacement throughout New England. If you're interested in learning more about the benefits of metal roofing, whether you want standing seam or metal roofing shingles, call us today at (866) 978-2588 today.