Raising the Roof in 2021: Peak Roof Performance
February 19, 2021 | By Renee Ramey | Filed under: Buying a New Roof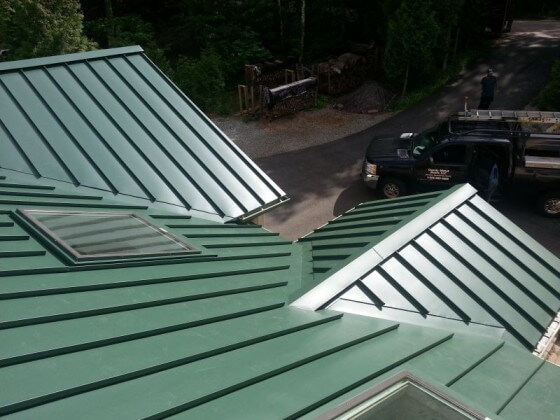 Throughout the U.S and Canada, 2020 was a prime time for roof replacements. Whether driven by an increased in home improvements, record low interest rates or severe weather and natural disasters, the re-roofing market experienced strong demand last year and shows no signs of slowing in 2021. In fact, it's actually picking up.
Make a choice for peak roof performance.
"Homeowners understand that replacing a roof is a major home improvement investment and one that makes a tremendous difference for not just resell value, but how a home performs," said Renee Ramey, executive director of the Metal Roofing Alliance (MRA). "Enhancing safety, security, durability, and long-term cost savings will be key factors driving purchasing decisions this year."
For homeowners who recently installed a new roof or are considering it this year, industry experts say it's important to keep these key objectives in mind to maximize the value of a roof over its lifetime:
#1: Choose the right roof for the job
Every region has unique conditions: Snow, hail, hurricanes, extreme heat, wild fires and windstorms, just to name a few. More than any other exterior improvement, roofs offer whole home protection and bear the brunt of seasonal weather conditions. That's why it's important to take stock of seasonal conditions along with potential threats and choose materials and installation methods that will offer the best protection for your home. If your new roof is installed in the warm summer season, it may be easy to forget about accessories and extra precautions needed for when rainy, stormy and cold weather hits, including snow guards and high quality underlayment designed to better guard against leaks. Discussing and planning ahead for all-season protection together with your roofing installer can help prevent call backs and additional expenses later on.
#2: Install the highest quality roof you can afford
Don't just consider the initial cost, but the total cost of ownership of installing a new roof. That includes choosing materials that will last longer, hold up better under extremes, help save energy and reduce overall maintenance costs. Remember that with any roofing material, there can be a wide range of different qualities and warranties available. Do your homework and keep in mind that if an initial bid seems too good to be true, it probably is. Understand industry standards, ask questions and know the source, the pros and the cons of the roofing material your installer is proposing. Tap into free online resources such as the Metal Roofing Alliance's Buyer's Guide to learn more.
#3: Protect your roofing investment
So, your home has a beautiful, solidly installed new roof. Plan to keep it that way with proper maintenance and care. Perform essential maintenance by keeping gutters, eves and soffits clean.
Fortunately, some roofs such as quality metal roofs with strong, protective coatings are naturally low maintenance, requiring only water and mild soap to keep clean and beautiful year after year. But other types such as asphalt and shake with rough surfaces can be prone to moss, fungus and hard-to-remove debris, which may require regular treatment with harsh chemicals. Before you decide on a new roof, consider the amount of time, effort and expense that may be needed to care for it.
#4: Make your roof work harder
Roofs can do much more than just provide shelter. They can serve as a power station, help improve lighting and make an interior feel more comfortable and inviting. For example, re-roofing is a perfect time to consider adding rooftop solar panels to reduce or even eliminate utility bills. Adding a skylight can also enhance natural light and energy efficient "Cool Roofs" work to keep homes much cooler in the summer and cozy in the winter. Talk to your installer about your goals and options. It's often more feasible and much less expensive to incorporate these multi-functional elements when installing a new roof verses making changes after the roof is already on.
#5: Increase your home's resiliency, starting at the roof
Wildfires, freak hailstorms, monster hurricanes and bomb cyclones: if climate patterns seem to be getting more extreme with every passing year, that's because they are. In many regions, devastation from natural disasters is occurring more frequently. When choosing a new roof, it's increasingly important to make sure it offers best-in-class protection, including high wind and impact resistance. Metal roofing also has a Class A fire rating, the highest available, which is why safety experts recommend them for wildfire-prone areas. Make a resolution to be prepared for emergencies and have a plan in place in the event of a disaster.
Roof performance? Now is the time.
In 2021, if you plan to reroof, resolve to protect your home and investment with the right choice that will provide top-notch performance and reliability. Choose a lasting roofing solution from Classic Metal Roofs, LLC.