How Difficult is it to Install Metal Roofing?
December 16, 2022 | By Mark Feller | Filed under: Blog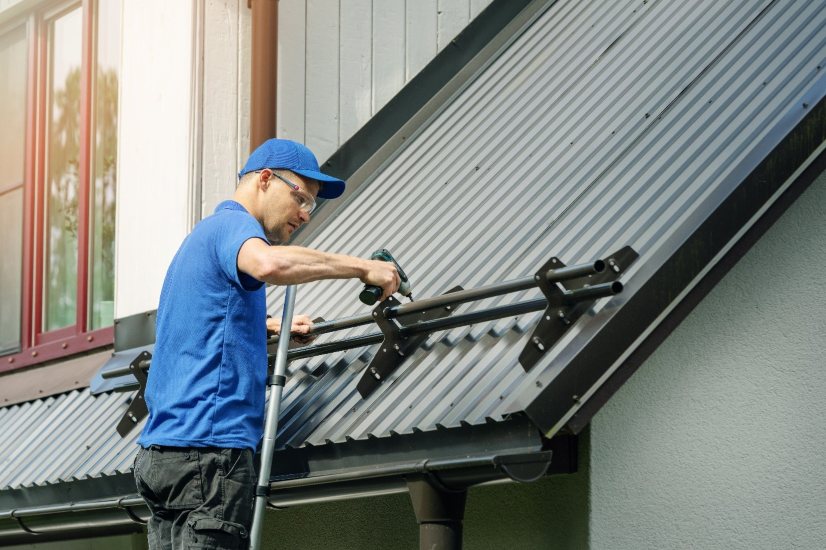 Install Your Metal Roofing With Ease
If you're in the process of perusing metal roofing options in preparation for an upcoming home upgrade, you may be wondering how challenging a metal roofing installation is, and how you can make the process a little easier. Classic Metal Roofs is here to help with these insightful metal roofing installation tips from our industry-leading metal roofing contractors.
Is Metal Roof Installation Difficult?
Whether you're upgrading your old roof or installing a roof onto your new home, roofing is a significant job in terms of time and labor. However, metal roofs put you at an advantage, as they are slightly less complex to install. Metal roofing material is supplied in large sheets, making for a more convenient installation process.
What Makes Metal Roofing a Good Idea
Determining what kind of roof will be most beneficial to your home is a tough decision. However, metal roofs are the industry-leading material as far as durability, longevity, and maintenance. They are able to withstand the test of time without succumbing to the elements, and they require minimal maintenance. They are also a green roofing choice and provide the added advantage of energy efficiency.
Hire a Metal Roofing Contractor
While it is not impossible to install a metal roof on your own, it can be time-consuming and strenuous and is not recommended. For a guaranteed pristine outcome, hire a reputable metal roofing contractor with the skills and knowledge to help you navigate the process while adhering to safety standards. A contractor will ensure the metal roof is completed promptly without fault.
Proper Installation Is Non-Negotiable
Many components contribute to the longevity and performance of a metal roof. However, proper installation is arguably the most vital element of a new metal roof. When metal roofs encounter problems, it's rarely due to the material and almost always due to poor installation methods or faulty work, which is why it's important to work with a reputable metal roofing contractor.
Factors to Consider When Choosing Metal Roofing Materials
A roof is only as successful as the materials used to install it. Therefore, it's important to know your metal roofing materials. There are several factors to consider when choosing your metal roofing material. It is crucial to the finished result to strategically think about the thickness, design, finishings, formulation, and protective coatings to determine what works best for your home. Keep in mind that the price will vary depending on the quality of the materials you choose.
Make an Informed Decision
If this is your first metal roofing installation, you may feel overwhelmed by your options. The most essential thing to remember is that material selection is critical and should never be chosen blindly. If you feel uncertain about what is most suitable for your needs, always consult a professional metal roofing contractor for an expert recommendation.
Use the Right Metal Roofing Fasteners
In some cases, your metal roof can be drilled directly into your roof frame, but if your roof requires fasteners, it's not something to skim over lightly. The type of fasteners will depend on the metal roof you choose. An expert metal roofing contractor will select the appropriate fasteners for the project.
Beware of Overtightening or Undertightening
Over-tightening and under-tightening the screws that fasten a metal roof can result in leaks. A specific range of tightness needs to be met when securing the screws to avoid problems down the road. This is another reason why it is important to allow an experienced professional to handle your metal roofing installation.
Ensure the Measurements Are Exact
Inaccurate measurements cause more than an inconvenience, as a sizing mistake can result in all sorts of problems. Precise measurements are essential to the production of your new roof, which is why it's crucial to hire a professional metal roofing contractor. Your roofing contractor will be able to handle the measurements and get the job done right the first time.
Roof Slope and Waterproofing
The slope of your roof will influence how difficult your roof is to complete. However, the slope is important as it directly links to the waterproofing properties of your roof. Steep slope metal roofs are less prone to leaks, whereas mildly sloped or flat roofs may require additional waterproofing enhancements.
Metal Roofing Underlay
An underlay can be placed beneath your metal roof for added protection. An underlay provides additional security, creating a moisture barrier between your roof and home. There are several underlay materials available; the design of your roof, building codes, and the material of your roof will influence which is best for your unique case.
Quality Metal Roofing Installations With Classic Metal Roofs
Get your metal roofing installed right the first time by trusting the reliable experts at Classic Metal Roofs. For over 20 years, our team of specialists has been supplying homeowners in Connecticut, Massachusetts, Rhode Island, and New Hampshire with exceptional metal roofing that will last a lifetime. Contact our professionals today to schedule your metal roofing consultation.