May 10, 2022 | By Renee Ramey | Filed under: Blog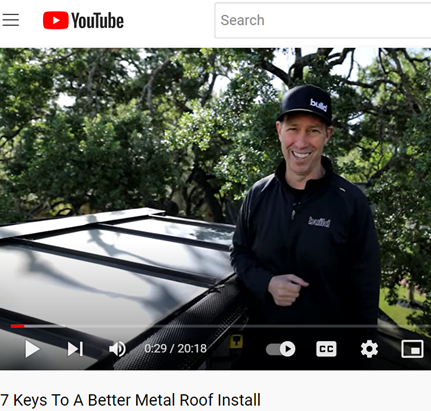 Your Metal Roofing Questions, Answered By YouTube Sensation and Building Expert Matt Risinger
Austin builder and YouTube sensation Matt Risinger is a huge fan of metal roofs. As his hundreds of thousands of fans of his channels will tell you, he also knows a lot about them. He recently put one on his own custom-built home in Austin, Texas.
The reasons why Matt loves metal roofs make perfect sense, especially where thunderstorms, high wind and hail, torrential downpours, and extreme summer heat can take their toll on a home's roof.
Metal Roofing Video
No matter where you live and what conditions you may face, Matt's just-released video 7 Keys to a Better Metal Roof Install covers many of the important details and questions you need to know when considering installing a quality metal roof. There's no doubt that a metal roof can be an amazing shield against the worst of Mother Nature, but as Matt says, "you've got to get the details right."
Because quality metal roofs are only as good as how they are installed, Matt's latest video covers some essential tips that homeowners will want to pay close attention to, including information about underlayments, skylights, roof penetrations, snow guards, and solar panel clips, and much more.
Learn More About Quality Metal Roofing
So if you live in an area that experiences snow and ice storms, extreme heat and wildfire or hurricanes, hail, and tornados–or if you just want to invest in a roof that delivers low maintenance, strong, and super long-lasting performance–learn why building experts like Matt Risinger wouldn't consider installing anything else but a quality metal roof. Watch 7 Keys to a Better Metal Roof Install now.
For more information about the many benefits of a metal roof and how to maximize the return on your metal roof investment, visit the Metal Roofing Alliance (MRA) at www.metalroofing.com.