The Oxford Slate Aluminum Press Formed Metal Shingle – The Best Metal Shingle for your Home Bar None
April 26, 2018 | By Bryan Rusch | Filed under: Blog
The interest in Lifetime aluminum metal shingles is growing nationally in the residential sector. How is the average homeowner able to tell which product and which installation is going to be the best for their home? There are several questions that the homeowner should be concerned with. Here they are.
What is the actual thickness of the aluminum metal shingle that is being offered?
What is the percentage of Kynar/ Hylar in the coating of the metal shingle?
What is the fastening method, is it a clips system(architectural) or a flange (agricultural/building)?
What are the underlayments being used and are they approved for metal roofs?
What does the metal shingle look like on the roof? Go out and see several homes.
What are the colors that are offered, and do they work with our house?
How good is the warranty? You won't know unless you read it.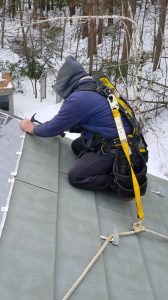 There is no comparable press formed metal shingle in the metal roofing industry like the Classic Metal Roofing Systems Oxford Slate, period. Here is are the answers to the question listed above.
Thickest aluminum shingle on the market. It's .024 thickness, compared to the competition's .019, allows for a more rigid and sturdy roof, rated with the highest hail rating. And if you want to walk on this roof once it is installed, no problem!
The Oxford's finish consists of an Energy Star rated 70% Kynar. It has the highest allowable resin to pigment finish available, which means a polymer molecular bond that is guaranteed not to chip, crack, peel or fade!
All roofing panels interlock on all four sides and are independently clipped and fastened through a hurricane rated synthetic underlayment to allow for proper expansion and contraction without putting strain on the fastening points.
Beautiful beyond compare to any other press formed aluminum shingle on the market. Its larger panel size means fewer seams per roof square, which means that it resembles natural slate as opposed to a small non-random tile or asphalt look-a-like pattern.
Comes in a multitude of colors to better address the various contextual situations and exterior colors of a variety of home styles.
Comes with the best Lifetime, non-pro-rated, fully transferable product warranty in the entire roofing industry, bar none!
If you're thinking about replacing your asphalt or cedar roof this year, or maybe building your dream house, why not consider protecting your investment with the only true "Architectural" quality metal roof product in America today.
When it comes to an Oxford Slate aluminum metal roof shingle, there is no equal. See how great our aluminum metal shingle will look on your home protecting your biggest investment.
When you're ready to enjoy the lifetime benefits of the Oxford Roof Systems, trust the experts at Classic Metal Roofs to provide a successful metal roof installation, one that you can rely on for a lifetime. Call us now at (866) 660-6668 for more information. We serve Stow, MA, West Warwick, RI , Nashua, NH , East Berlin CT, and Westchester County, NY, as well as surrounding areas and all of Southern New England. Now serving coastal ME and Westchester county NY.