What Should Be in a Roofing Estimate?
December 6, 2018 | By Mike Gonet | Filed under: Blog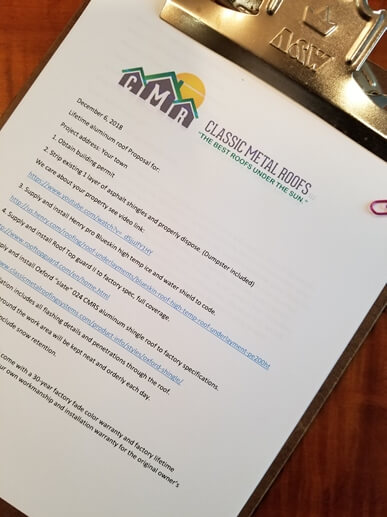 Before starting a new project, make sure to meet your chosen metal roofing contractor. It may take several meetings and continuous correspondence (through email, phone, or text) before you agree on what you want to be done. When your contractor is ready, they should present you with a properly prepared roofing estimate, so you will have an idea of how much your project will cost and how long before it's finished. There are things that should be included on that list before you even consider starting the project. Here are some of them.
Permitting/License and Insurance
Building permits are required in most states to install new roofs. Be sure your contractor has the proper insurance and licenses to obtain the building permit. Never pull the permit yourself as a homeowner. Reliable contractors are able and willing to give you proof of their license and insurance. Licensed metal roofing companies can procure permits that guarantee they meet all the requirements for your roofing services, while insurance protects you from damages and other costs.
Project Summary
A detailed summary of the project is important. This will show you that the contractor knows what they need to do for your project, and they have a plan on how to proceed with the project. This will also let you check if there are any inconsistencies between what you discussed and what the contractor plans on doing. Be sure you are both on the same page.
Materials
A proper estimate should have a precise list of all the materials that will be used. We recommend a digital proposal with links to all the manufacturers of material being used. That way you know exactly what you are paying for.
Payment Terms
The roofing estimate should also inform you of the payment schedule and process of the contractor. This will give you a better idea about when you will need to prepare their fees, and how to pay them. Most states limit the deposit to one-third of the contract price unless the materials are custom made.
At Classic Metal Roofs, we know just how important it is to provide our clients with a complete and comprehensive estimate. But don't take our word for it. Give our services a try by calling us at (866) 660-6668, or fill out our Free Consultation form. We serve MA, RI, CT and southern NH.