How Metal Roofs Add Up to Better Value for Your Home Improvement Dollar
November 9, 2020 | By Renee Ramey | Filed under: Blog, Roofing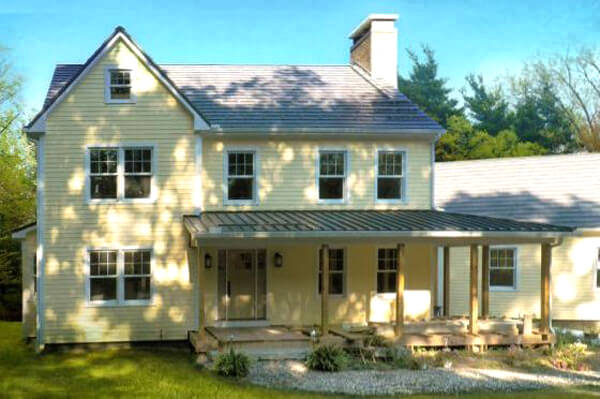 The Metal Roofing Alliance (MRA) fields a lot of questions from homeowners about how to get the best value for their roofing dollar. It's an important topic and one that deserves careful consideration before replacing the roof on your home. There are many factors to weigh when it comes to maximizing value which is why it's essential for homeowners to look beyond just the initial cost of re-roofing and consider how much money their roof may (or may not) save them over the long run.
For example, roofs that need to be replaced or repaired more often can quickly wipe out any installation savings or "discounts." Putting on a better quality metal roof that comes with solid warranties and is backed by reputable manufacturers can serve as added insurance and deliver reliable performance for decades to come. Costs such as annual maintenance and cleaning requirements also need to be considered when choosing roofing material options. And then there's the matter of energy efficiency, curb appeal, and choices that have a direct impact on increased comfort and the overall protection of your home.
Ways to Maximize Metal Roof Value
To determine the best value for your roofing dollar, here are top ways to ensure you are getting the best bang for your buck over the long run:
Don't short-change durability Many regions face climate extremes that not only result in a lot of rooftop wear and tear but can dramatically shorten the lifespan of an asphalt or shingle roof. From hurricanes, wildfires, tornados, ice and snow, monster hail and windstorms, quality metal is simply stronger, more durable, and holds up better in severe weather and natural disasters. Not only will a metal roof outperform other types, but it may help prevent costly damage resulting from leaks and other types of roofing failures. In fact, some insurance companies even offer discounts off premiums for homes that have more resilient metal roofs.
Think long-term ROI Because quality aluminum metal roofs can last up to five times longer than other types, homeowners are recognizing they provide a much better return for their financial investment. A metal roof can last 100 years which is why spending a little more upfront can pay off in a major way down the road. And because metal can naturally resist moss and fungus growth and are often able to be easily cleaned by just hosing them off using plain water, they also help reduce ongoing maintenance costs.
Cash in on better performance  Considered "cool roofs," metal roofs are more energy-efficient than many other types of roofs, helping save money on utility bills. Aluminum metal roofs with special coatings deliver the highest total solar reflectance and high infrared emittance, keeping homes cool and saving energy by re-emitting most of the absorbed solar radiation. Given the fact that quality aluminum metal roofs are designed to last longer than solar panels, they are also the perfect platform for residential solar systems, giving homeowners yet another avenue to use their rooftop to not only save but generate their own energy.
Realize maximum resell value Even if you don't plan to sell your home anytime soon, a quality metal roof can help increase its value. Studies show that homes with high curb appeal tend to sell for an average of seven percent and by as much as 14 percent more in slower real estate markets. Aluminum metal roofs come in a huge variety of styles and color options and maintain their beautiful appearance for years. Homeowners increasingly appreciate the fact they can choose a metal roof specifically designed to enhance and complement the architectural style of their home without having to sacrifice durability or performance. And because aluminum does not rust, is exceptionally strong, yet lighter weight as compared to materials like tile and slate, choosing an aluminum metal roof is a far less costly option versus having to potentially reinforce roof supports, while still allowing homeowners to achieve the desired appearance.
Reduce your environmental costs Aluminum metal roofs help reduce other costly impacts, including those on the environment. Reducing the need for replacement, lowering energy use, and preventing waste all adds up to increased sustainability. Additionally, aluminum metal roofs can be 100 percent recycled at the end of their long life. That means you will not only feel good about the long-term money you're saving but also the earth-friendly environmental benefits you realize by choosing a quality aluminum metal roof.
Do Your Aluminum Metal Roof Homework with our FREE Research Tools
There's no doubt that replacing a home's roof is a major expense and one that deserves careful consideration to help ensure you're getting the best return on your improvement investment. Do your homework and learn more about your options to make your dollars work harder by checking out our quick Aluminum vs Asphalt comparison tool.