Learn more about a metal roof before you buy!
September 20, 2019 | By Mike Gonet | Filed under: Blog, Metal Roofing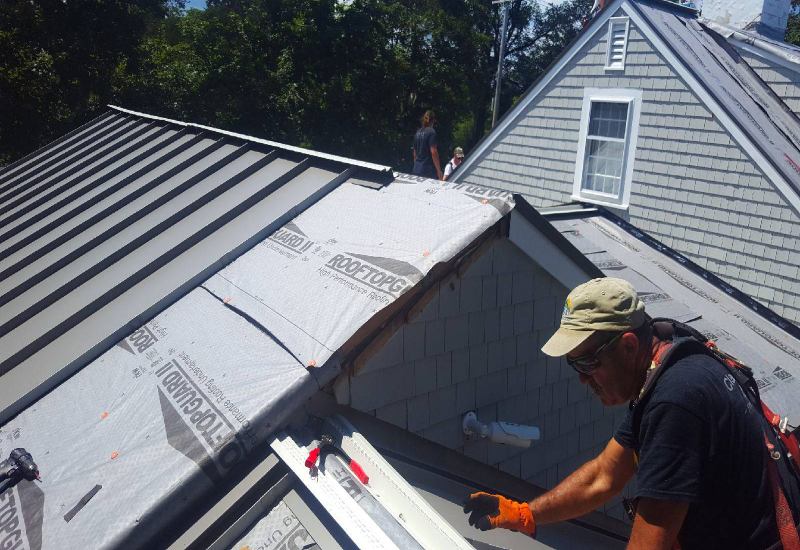 The fastest growing segment of the residential roofing industry in the US, and here in MA, RI, CT, and NH is a metal roof. The popularity of metal roofing has sparked just about every roofing contractor to get on the bandwagon. Is hiring an asphalt roofing contractor to install a lifetime metal roof really a good idea? There are a lot of questions that a homeowner should be asking before deciding on a contractor and the product to install. Let's take a look.
Metal Roof Paint
If you are not investing in an "organic" metal that naturally patinas, like copper or zinc roofing, you are more than likely considering a color option. So, what about "paint"? Is it going to chip, crack, peel, and fade? Well, it might, and most likely will, if it isn't a quality coating. What is a quality coating for metal roofs? That's another great question. You would have to guess that what the metal roof is coated with will determine how good your roof will look and for how long, and you would be correct.
Metal Roof Styles
What's the right look for your home? A metal shingle in a slate or shake style? Or the clean, crisp look of standing seam. Maybe a combination of both a metal shingle and standing seam. They can all improve the curb appeal and protect your home for a lifetime. Do you want a choice, or do you want the only product a company sells to be your choice?
If you're considering a metal roof for your home, you'll want the answers to these, and maybe a few more, questions. To get some insight into what metal roof you should be considering and who should install it, click on the learn more button below, so you definitely don't get hurt.
Fastening a Metal Roof
The way that a metal roof is attached to your house is a big issue. There are several designs that dictate the type of fastening that will be done. The metal roof panels are typically attached with either nails or screws. The number of screws or nails and the quality of the screw or nail that goes into the attachment are crucial in determining the outcome of the installation and how it will perform over time and in severe weather and high winds. Do the roof panels get fastened through the face of the panel or is there a "built-in" flange in the panel to attach it to the roof? Do the roof panels that you chose have an independent clip system to attach the roof? Are the components of attachment galvanized metals, or aluminum, or are they stainless steel?
Sometimes homeowners find more questions than answers in their search for the right roof. We're always here to help you learn more about metal roofing, before you buy.