Cedar Roofing – Old World Charm, New World Challenges
January 8, 2015 | By Mike Gonet | Filed under: Articles, Education, General, Metal Roofing
If you are thinking of having a new cedar roof installed in order to create that Old World charm, or replacing an existing roof with cedar, you may wish to reconsider. Cedar does evoke a warm feeling of simpler times and cottage-like qualities as no other building material does. Cedar siding and roofing blends well into the countryside landscape and compliments the natural beauty of its surroundings. However, time is cedar's mortal enemy. And like everything else, the Earth eventually reclaims what belongs to it.
There are three types of cedar in use: Western Red Cedar (the most common), White, and Alaskan Yellow Cedar. Preparing cedar for installation can be handled in one of two ways: It can be installed "green," meaning freshly cut and installed without a drying process, or it can be installed following a drying process using an air or kiln dried method. A majority of cedar is dried prior to installation, and due to the flammable nature of cedar a fire pressure-treated option is commonly used in areas where wildfires are prevalent. Fire ratings of Class C and B are common for cedar, but can achieve a Class B over A when a fire retardant underlayment, such as a fiberglass cap sheet underlayment, is used. In less wildfire-prone areas the cedar can be installed green.
Wood naturally swells when green, alive, or wet, and then shrinks in size after it has cured. Installing green cedar before it has fully cured requires special finesse and expertise. Adjustments for uneven weathering and drying of the cedar must be taken into account in order to achieve a proper fit and finish once the wood naturally shrinks following its exposure to the elements.
Some of the other benefits of cedar, besides being aesthetically pleasing to the eye, are its durability and ability to withstand strong storms. It provides higher insulating R value in colder months and energy efficiency in the warmer months, due to this natural material not absorbing and transferring heat to the home, unlike other roofing materials. Cedar is an eco-friendly material upon disposal, as compared to petroleum-based products – principally asphalt – which offer little insulating value and energy efficiency during the course of their lives. The case for cedar is strong, no doubt, but the New World desires more.
Counting the Costs of Cedar
Cedar has been used in building applications for centuries, primarily because the benefits of local old growth cedar sourcing and availability. Today, cedar is becoming one of the most expensive building materials to use due to availability and quality. Cedar is a hardy natural material, making it more resilient to the elements than other roofing materials if properly maintained. While the Old World charm is there at the beginning of its life on a roof, cedar can weather unacceptably, making it look dirty and old rather quickly. The fibrous surface of cedar when used on roofs encourages plant growth, such as moss, black algae, and mildew. Once this happens, cedar can deteriorate quickly if not rigorously maintained.
Wood is Good, But Not on A Roof
The initial costs of a cedar roof are usually significantly higher than for other roofing materials, and the costs do not diminish once the roof is installed. Annual maintenance treatments are required if the wood is not preserved and left in its natural state. These treatments involve accessing the roof for the application and rinsing off of chemical algaecides and detergents. These maintenance treatments will remove and temporarily inhibit further plant growth that will otherwise naturally occur on cedar roofing. Moreover, this maintenance may be necessary for cedar roof warranties to stand. As is the case with many roofing material warranties only the product itself is warrantied, not the labor involved in installing it.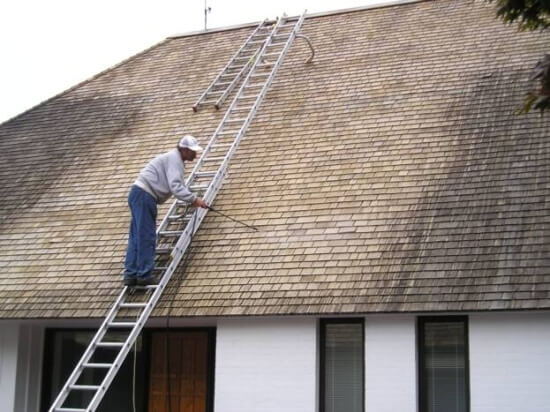 When a cedar roof is ready for replacement, there are also some more added costs to calculate. Re-roofing over a layer of existing cedar shingles or shake is not possible due to the nature of the material and its installation. State building codes here in New England allow installation on top of up to two layers of roofing materials before a roof needs be stripped off prior to a new one being installed; however, you can rule out plans to re-roof over an existing layer of cedar to save some money: the roof has to come off. Cedar is one of the more difficult roofing materials to remove due to its brittle nature, hence there is more time and labor involved in its removal and disposal. At least disposal charges can be avoided. Old Cedar shingles make great firewood, and you can always burn them.
Cedar Styles and Colors
Cedar roofs come in two looks or styles, but color options for cedar can vary depending upon the species, natural weathering, and if staining is involved.
Each style or look is determined in the manner from which the cedar is cut. A "hand split" cedar block provides a rougher more rustic look, referred to as a shake. A "taper sawn" cedar block provides for a more finished or refined look, called the shingle. Cedar requires yearly maintenance regardless of style and color, as previously explained.
Different species of cedar acquire a cured or dried color tone over time from weathering. Knowing what color tone a cedar roofing material will develop should be considered in the design process. Any cedar that is not properly maintained following the aging process can result in brittle, dark, and cracking shakes or shingles. As you can imagine, different climate zones will also create varying effects on cedar as it ages. Cedar can be stained prior to installation, which may take some of the guesswork out of which color the roof ultimately reaches. Maintaining a uniform finished look of stained cedar on a roof may become challenging, depending on your climate and the various roof sides and orientations.
Cedar Alternatives
Classic Metal Roofs, LLC installs lifetime, energy-efficient, hurricane-rated metal roofs. We work exclusively in aluminum, zinc, and copper. Classic Metal Roofs, LLC has the answer to the dilemma of providing a cost effective, long lasting, worry-free roof.
A simulated look of cedar shake or shingle can be obtained via Classic's Rustic and Oxford shingle. These aluminum roofs mimic the look that cedar roofs provide without the hassle and costs of yearly maintenance and early replacement. Further, these lifetime, energy-efficient, hurricane-rated metal roofs are available in numerous color choices for both the Rustic (Shake) and Oxford (Shingle).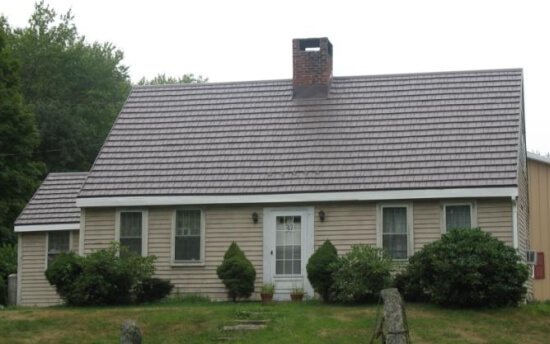 Contextually, sometimes a period home – contemporary or modern – will benefit from one of our standing seam roofs, or a combination of standing seam and shingle, where a faux cedar metal roof alone would not be appropriate.
The bottom line is that we have numerous design options at hand via our many metal roofing products. If you would like to consult a roofing professional about your project, please contact us today.