What Are My Metal Roof Options?
April 1, 2022 | By Mike Gonet | Filed under: Blog, Metal Roofing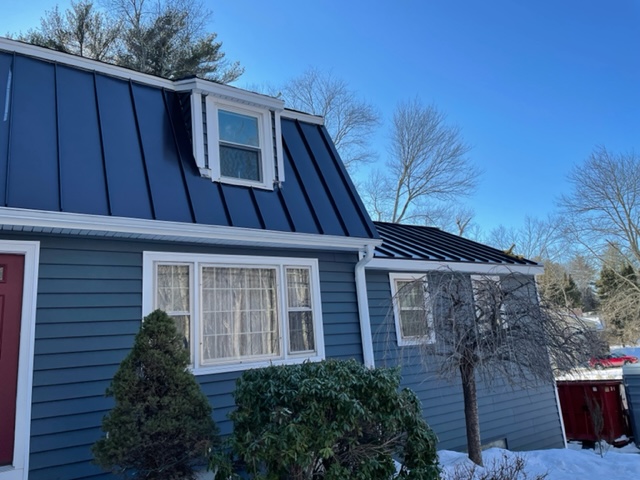 Whether you're putting a new roof on your home, you may wonder about the styles and options. From homes in Manchester, NH to residences in Acton, Massachusettes to Guilford, CT, and throughout southern New England, metal roofing continues to grow in popularity for both new construction and roof replacements. The more you understand that you have many metal roof options beyond the old wavy or corrugated style, the more you may consider metal for your next roof.
Styles-Profiles
Many people are surprised at just how beautiful a metal roof looks. If you've not looked at metal roofing on anything other than an old dilapidated barn, we think that you'll find today's metal roofing quite visually appealing and stylish. A very popular option is called standing seam. It provides a contemporary look for any home. If you want a more traditional look for your roof, consider a shingle-style metal roof which is available in multiple profiles, standard architectural shingle, slate, and wood shake. You can get all these looks without the cost or maintenance. for a lifetime.
Metal Roof Options in Colors
Metal roofing comes in a variety of colors depending on the style you choose for your home in Massachusetts, Rhode Island, and New Hampshire. Classic Metal Roofs offers the biggest variety of colors ranging from traditional browns grays and black with tans to historic red, modern blues, and greens just about any color you might want, we have.
Because of durability and environmental issues, the best metal roofing material is aluminum. Our standing seam and shingles style metal options are rust-free aluminum. A popular option, especially for accent roofs, is copper. It provides a look unmatched by any other metal. Zinc roofing is the least known option. It is strong, durable, and patinas into a beautiful blue-gray.
Classic Metal Roofs Can Help
Classic Metal Roofs can help you choose the right metal roof options including style and color for your home. With offices in Massachusetts, Connecticut, Rhode Island, and New Hampshire, you can have peace of mind knowing that we're a local business, licensed and insured in your state. Call us today for your free estimate at (866) 660-6668.