Top Metal Roof Color Trends for 2018: It's Intense
April 5, 2018 | By Renee Ramey | Filed under: Blog, Roofing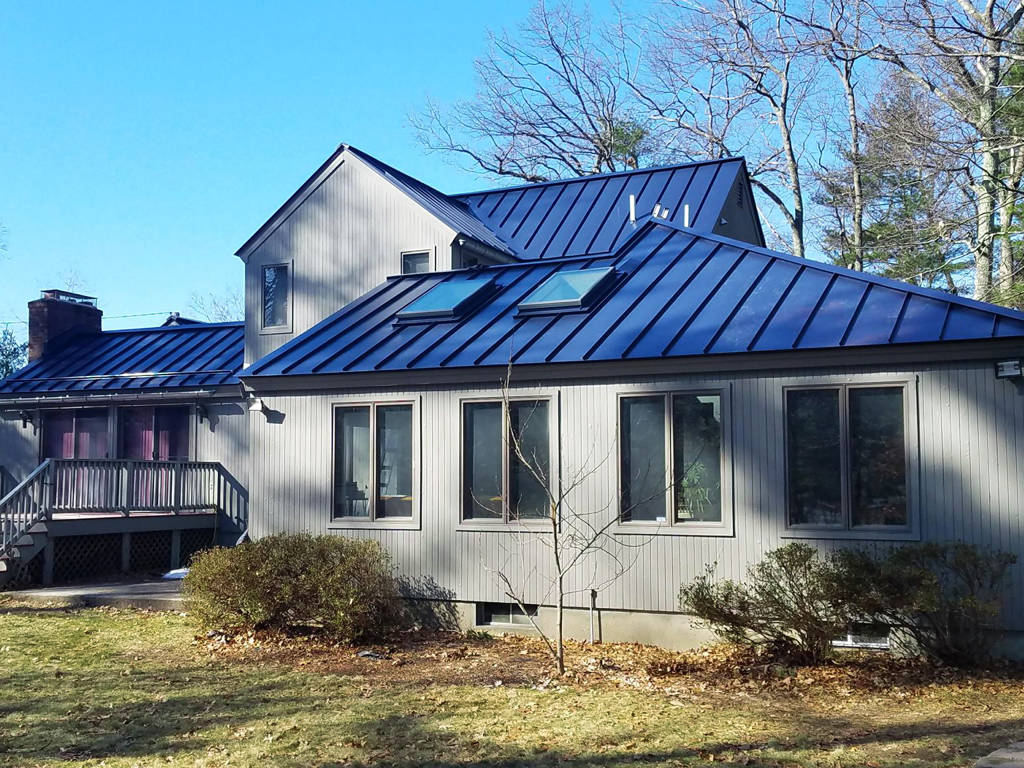 Call it provocative, vivacious or bold: For homeowners, 2018 color trends for metal roofing are all about standing out from the crowd.
With more color options available than any other roofing type, metal roofing color trends set the tone for the latest in homeowner style preferences. And this year, it's no time to be subtle as many homeowners are moving away from traditional earth tones in favor of bolder shades.
The rise of the bold color trend may be rooted in the fact that Pantone's Color of the Year for 2018 is Ultra Violet. But while no one is predicting homeowners will choose to install purple roofs, there's no doubt there is a tendency towards choosing unique color options that add a strong curb appeal punch.
Dramatic color influences are becoming more common as homeowners opt for intriguing tones and strong color choices including bright reds, brilliant whites and moody deep blues. Multi-tones and raw organic hues such as copper, titanium and bright stainless steel also are attracting attention for their rich hues and one-of-a-kind appeal. As a focal point of a home's exterior, people are realizing their roofs can become a canvas for individual style, and metal more than any other material allows them a wide variety of options to explore.
Whatever the latest color trends, it's important to carefully consider colors that may be beautifully unique, but also will stand the test of time. As the longest-lasting roofing material on the market, the fact is that homeowners will be living with their color choice for 50-plus years. So, while there are plenty of beautiful, new shades out there, choosing a more traditional color may be more prudent, especially if homeowners plan to stay in their house for the long run.
To help you make the right color choice for your metal roof:
View it in all lights Remember that colors will look different on a cloudy day versus in bright sunshine. Color tones also may not look the same in the morning as when viewed in twilight hours.
Make sure pretty is practical A white metal roof is considered a "cool roof" and can be 50 to 60 degrees cooler than a dark color asphalt shingle roof. Choose a lighter shade if you live in a sunny, hot climate region for maximum energy efficiency, but also keep in mind that if your heart set is on a darker color, there are many coatings and finishes available for metal roofs that can still allow it to save energy and qualify as a cool roof.
Consider your surroundings Paint colors tend to change, but metal roofs will last for more than a half century. The best bet is to ensure the color you choose fits with the style of your home's overall design and the surrounding neighborhood. Of course, it's also important to adhere to any HOA requirements or neighborhood guidelines.
Stand up to the test of time Homeowners who want to ensure their roof's color stays the same tomorrow as it is today should select material with high quality paint finishes, such as PVDF coatings. For those who prefer natural variances, some bare metals like copper will patina and naturally change color over time.
Try it on The MRA offers a free online visualizer on its website where homeowners can upload a photo and see how their home might look with different types of roofing color and style options—a good way to try before buying.
For more information, visit www.metalroofing.com.