Why Choose an Aluminum Standing Seam Metal Roof for Your Home
March 20, 2020 | By Mike Gonet | Filed under: Blog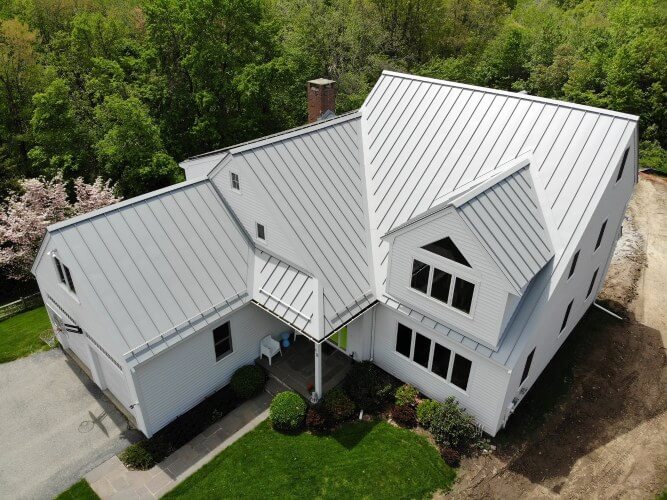 Are you planning to replace your old asphalt roof this year? If so, you'll be pleasantly surprised to learn that you have an abundance of metal options when it comes to residential roof replacement. Apart from usual asphalt, you have wood cedar shakes, slate, plastic, and metal shingle roofing. While most of these are acceptable roofing materials for the short term, the aluminum metal shingle is the best option by far. However, there is one option that you should never forget to consider: standing seam metal roofing.
Why are standing seam aluminum metal roofs highly recommended in the roofing industry? Here's why:
Durable
If you're looking to make your home roofing system more durable, then standing seam metal roofs are the option for you. While it is by no means invulnerable, aluminum metal roofing systems can still last longer and can withstand the elements significantly better than just about any other roofing material.
Lifespan
No property owner wants to change their roof every 15-20 years. After all, not only is it too much work to handle but it's also a costly endeavor to undertake. Thankfully, according to metal roofers, a standing seam metal roof has a long lifespan, you could get 100 years out of it, when properly installed. This means that it's possible that it'll be the last roof you ever install on your home in your lifetime, allowing you to save a significant amount on repairs or replacements.
Aesthetically Appealing
The roof on your property plays a large role in its curb appeal. By installing a metal roof on your home, for instance, its wide range of colors can easily enhance your home's overall curb appeal as well as its property value. This makes standing seam metal roofs a good asset to have in your home if you have plans to sell in the future. Even better, if you plan to leave the home to an heir.
Energy-Efficient
Most property owners nowadays are constantly looking for ways to reduce their monthly utility and maintenance bills. With aluminum standing seam metal roofs, you can easily accomplish this as they're classified as a "cool roof". By coating them with state of the art Kynar colors your aluminum metal roofing system will be able to reflect the sun's heat, preventing unwanted heat gain and reducing the load on your cooling systems. Also, the only maintenance that is needed is to remove any debris that might collect on it.
Are you looking for "The best metal roof installation under the sun, rain, wind, and snow?" Simply turn to Classic Metal Roofs LLC, your leading service provider when it comes to metal roof installations and replacement projects. Give us a call at (866) 660-6668 or fill out our Free Consultation form to get a free quote. We serve homeowners in MA, RI, CT and NH and other nearby areas.