Zucchini "Pasta" with Homemade Marinara and Turkey Sausages
August 6, 2018 | By Mike Gonet | Filed under: Family Recipes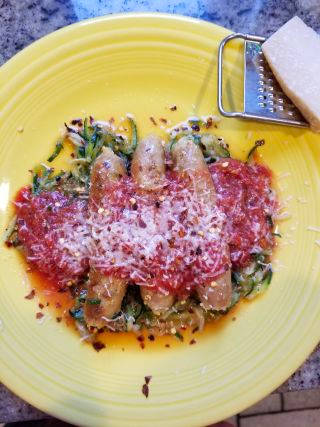 This is a quick and easy summer dish, especially for you gardeners that don't know what to do with all that zucchini. Prep time 15-20 minutes. Cooking time 1 hour.
Serves 4
Make the sauce first.
Quick summer marinara:
2/ 28 oz cans of San Marzano Italian peeled tomatoes
1 medium yellow onion, diced
2 cloves of garlic minced
2 tbsp olive oil
2 tbsp of fresh oregano
1 tbsp fresh basil
1 tbsp fresh parsley
¼ cup of Pinot Noir wine
¼ cup of water (put the water in the tomato cans to swirl so you get all of that goodness.)
2 tbsp of honey
Salt and pepper to taste
In a sauté pan, add onion over medium heat and sauté in olive oil for 10 minutes; then add garlic and ½ of the herbs and sauté for another 5 minutes. While that is sautéing, open the tomatoes, place in a bowl, and mash well with a potato masher. Add the tomatoes to the sauté pan (if it's big enough, or place both in a 4 qt sauce pan), bring the heat up to almost a boil, then turn to simmer. Add in the rest of the herbs, salt and pepper ( I use a teaspoon of each). After 30 minutes on simmer, add the honey, water, and wine. Stir frequently. Cook for approximately 30 more minutes until done. The sauce should be thick and the tomatoes will break down nicely.
When done, taste and correct the seasoning to your taste, if needed.
The sausage:
I use "Shelton's Farms" Italian turkey sausage, if you can find them. Use whatever you like.
I calculate 3 per person. That can be adjusted to your own needs and serving sizes.
Cook the sausages in a skillet with a little olive oil, per the packing instructions.
The "pasta":
6 / 6"-8" zucchinis
Cut both ends off flat and either run them through a spiralizer or cut into linguini size strips with a knife.
I press them or wrap them in a kitchen towel to eliminate some of the moisture. Place in a bowl and reserve in the fridge.
Cooking the Pasta:
After the sausages are done, remove them from the pan and add the "pasta". Cook the zucchini for about 5 minutes on medium heat, tossing it the entire time; add salt and pepper to taste.(optional: add a minced garlic clove)
Plating: Place a serving of the "pasta" on a plate, add the sausage, top with a ladle or two of the marinara.
Sprinkle grated Romano cheese liberally, and add some red pepper flakes for some zing.
Enjoy with a glass of Pinot Noir!