Metal Roofing Types and Profiles
June 23, 2022 | By Mike Gonet | Filed under: Blog, Buying a New Roof, Information, Metal Roofing, Roofing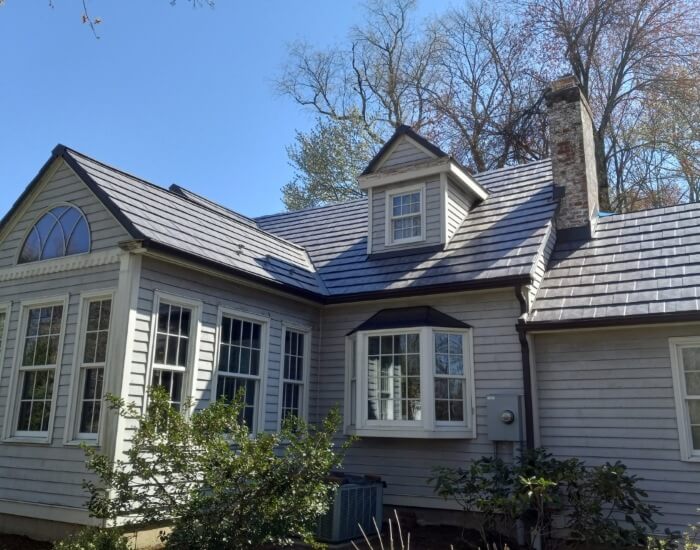 What Are the Various Metal Roofing Types or Profiles?
There are many types of metal roofing for homes. Of the different types of metal roofing, not all of them are necessarily right for your home. Depending on your budget, one metal roofing system may be a better fit than another. There are a few ways to classify different metal roofing types; material, profile and finish. Let's look at each one.
Different Metal Roofing Materials for residential applications.
In the northeast, the most common metal roofing material is aluminum. However, copper roofing and zinc roofing are also used, but far less frequently. Because of the cost of copper and zinc roofing, it's most often an accent roof rather than roofing for a whole home. Aluminum metal roofing is the only base metal that comes in many colors. Both zinc and copper roofing look different as they patina. All are strong and durable and last a lifetime.
Metal Roofs for Homes Types or Profiles
Although corrugated metal roofing still exists, it's not designed for residential roofs. It's designed for agricultural and commercial applications. Instead, informed homeowners choose either architectural standing seam metal roofing or a metal shingle profile. These two profiles or types of metal roofing shingles are most often used are the Oxford shingle in slate rock or standard finish and the Rustic shake, which resembles a hand-split wood shake. All of these options look great are very durable against the elements, and come in many metal roofing color options.
Metal Roof Colors
As mentioned, copper and zinc roofing come as they are and patina over the years. However, aluminum roofing, whether standing seam or metal roofing shingle, comes in many colors. Standing seam metal roofing from Classic Metal Roofs is available in 28 different colors. There are 16 different shingle colors, but not all are available in all styles. These colors last for years without fading or chalking due to the highest quality 70% Kynar coating system.
Call Classic Metal Roofs for Your Free Metal Roofing Consultation
Whether you're in Massachusetts, Rhode Island, New Hampshire, or Connecticut, we have an office near you. Call us today at (866) 745-0316 to schedule your free consultation and estimate for a metal roof replacement. We have the best metal roofs in New England under the sun, rain, wind, ice, and snow.