What Are the Different Types of Metal Roofs?
December 16, 2022 | By Mike Gonet | Filed under: Blog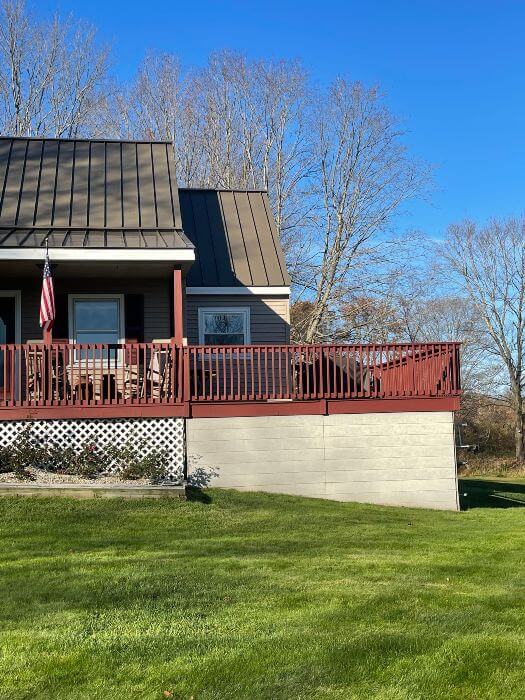 Types of Residential Metal Roofing
Metal roofing is resilient and has undeniable advantages that other roofing materials cannot match. However, when people think of metal roofs, they often do not realize just how many variations of this premier material are available. Classic Metal Roofs has compiled a list of metal roofing styles and their benefits to help you navigate which roofing style is best for your home.
A standing seam metal roofing system is a type of concealed fastener roofing that features a flat space between vertical or trapezoidal legs. This type of roof is very appealing, as it gives a home a beautiful contemporary flair. Standing seam roofs come in various colors, accommodating multiple home styles.
• Durability and Longevity: Standing seam metal roofs offer unparalleled durability, as they are made from rust-free, heavy-duty aluminum; therefore, you will not have to worry about corrosion. Since these roofs are strong, you can expect optimal performance and added longevity.
• A Green Roofing Choice: Choosing a standing seam metal roof enables you to do your part in protecting our planet's precious resources, as these types of roofing systems are solar-ready and made from 99% recycled aluminum, allowing you to feel good about your roofing choice for more than just personal gain!
If you're looking to emulate the traditional look of slate roofing while investing in a timeless roof that will likely never need to be replaced, Oxford metal roofing shingles are for you! Oxford metal roofing shingles are a low-profile aluminum metal roofing system that offers long-lasting elegance, making them a classic favorite.
• A Durable Twist on a Traditional Style: While Oxford metal roofing shingles may have the clean look of architectural slate, they are far from the same. Oxford shingles are solid. Their four-way interlocking connection system provides them with added durability even in the event of harsh weather.
• Environmentally Smart: Oxford metal roofing shingles are energy-efficient, as they have heat-resistant properties. These roofs are also better for the environment, as they are made from 99% recycled aluminum and can often be installed over an existing roof, reducing waste in landfills.
For homeowners who love the classic feel of wood, rustic metal roofing shingles are an excellent alternative. They are a versatile option, available in a wide range of colors to satisfy every homeowner's unique roofing needs.
• The Only Roof You'll Ever Need: Rustic metal roofing shingles are an ideal roofing material for the low-maintenance homeowner. They are durable and will not succumb to splitting, molding, rotting, or warping. Thanks to their four-way interlocking panels, they are resistant to the elements and will not grow moss or attract insects.
• Timeless Appeal Without the Hassle: Rustic metal roofing shingles resemble wood but do not come with the premature deterioration of wood. They have a rugged texture that gives your home added personality, with a realistic wood grain pattern that keeps your home looking beautiful with the added protection of metal.
Copper roofing is notoriously dramatic in appearance, as it is installed looking like a penny, and over time, changes colors to a blue-green. Copper roofing is unrivaled in boosting curb appeal and property value, and requires virtually no maintenance.
• Corrosion Resistant: Copper roofs can withstand even the most intense northeast weather conditions, and they are a choice option for homes along the coast, as they are rust-resistant. Copper roofs will not corrode, as they have a natural process called patina that gives them an extra layer of protection.
• Long Lifespan: Copper roofs resist hail, mold, mildew, and even fire. Copper roofs are known to last a lifetime; many historical buildings that date back hundreds of years are equipped with copper roofs, proving this material can withstand the test of time.
Zinc roofing is the choice roofing material across Europe and is now taking America by storm due to its undeniable strength, resilience, and striking appearance.
• Ages Beautifully: Similar to copper, zinc will begin as an earthy matte gray and will patina and become a nostalgic, old-world light gray-blue that gives a home a rich look. This resistant roofing material will not scratch, as the patina provides a protective layer that will reform itself to cover blemishes, enabling these roofs to stay flawless forever.
• Flexible Design Options: Zinc is thin but malleable, making it a flexible and versatile material for roofing. It can be made into many designs and styles to suit an array of creative roofing visions. Zinc offers originality; it is a roof that caters to homeowners who don't want something standard.
Let's Discuss Roofing Materials
For over 20 years, Classic Metal Roofs has been supplying homeowners in Connecticut, Rhode Island, New Hampshire, and Massachusetts with high-quality residential metal roofing installations that function as beautifully as they look. For more information on our metal roofing company or to schedule your metal roof consultation, contact our friendly team today!