Benefits of Metal Shingle Roofing
May 9, 2019 | By Todd Miller | Filed under: Blog, Metal Roofing, Roofing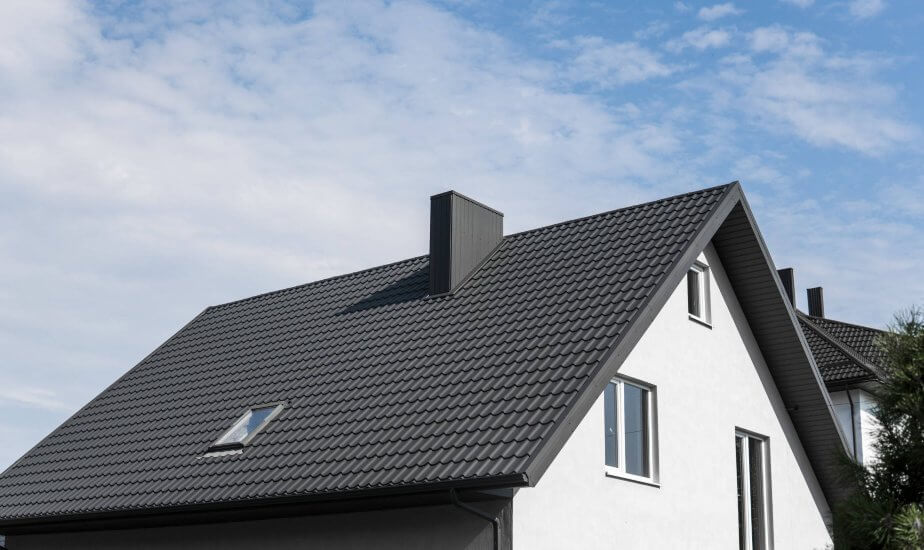 Shelter from the Elements
Abraham Maslow was a 20th-century American psychologist who identified the five basic needs of mankind. Those needs, listed starting with the most critical, are Physiological, Safety, Love and Belonging, Esteem, and Self-Actualization. The second of those most important needs is Safety which includes Shelter from the elements.
Throughout history, mankind has sought better forms of Shelter. And, we're still doing that today – looking for options that are more secure, more attractive, and provide additional benefits such as energy efficiency and sustainability.
Quite literally at the top of Shelter is some kind of Roof. A good Roof not only provides Shelter for the occupants but it also protects the structure itself from ongoing damage due to water, sun wind, and other elements. The make-up of a roof is something that builders have sought to improve. They started with materials found easily in nature such as thatch and sticks. Over time, they began to craft natural materials into things like wood shingles.
Then, with the onset of the Bronze Age, mankind began to make roofs out of metal which proved far more durable than sticks and thatch but also far more costly. Metal products also required a great deal of job site fabrication which was labor-intensive. Using stone for roofing was also common at that time, with slate roofs that had to be mined locally due to their extreme weight and fragility.
With the industrial age, man began to make roofing materials from asbestos, asphalt, and rubber. Those products were cheaper to produce and transport but they also were found to be far less durable than some of the refined natural materials.
Starting in the 1950s, though, we saw the further development of metal roofs to include interlocking metal shingles that could be mass-produced and easily shipped to homes and other job sites across the world. These products were quickly found to have many benefits for property owners that still exist today. In fact, as time goes on, technology has allowed those benefits to be expanded.
Some of the benefits of metal shingle roofing include:
Aesthetics Metal shingles have a very residential look compared to traditional vertical seam style metal roofs that can lend homes a more agricultural look. Metal shingles can be crafted to look like shingles, wood shakes, high-end slate, or event tile roofs. The development of multi-hued colors has brought even greater variety to these products.
Low Weight Metal is inherently lower weight than most roofing materials. Metal shingles, with their strength-adding formation, are a very low weight option that can extend the life of a structure with less pressure.
Wind Resistance The interlocking nature of metal shingles makes them ideal for applications in high wind areas. Whereas most roofing materials depend upon gravity or failure-prone sealants to hold them in place, quality metal shingles interlock on all sides in a way that also conceals all fasteners from the elements.
Energy Efficiency Many metal shingles take advantage of heat-reflective coatings to keep homes cooler in warm weather. However, they also include integral air spaces called thermal breaks between the metal and the structure. These dead air gaps stop conductive heat flow and make these products more efficient that vertical seam metal roofs that rest right on the roof deck.
Solar-Readiness Metal shingles also provide a great base for solar installations, providing durability and a solid surface as well as a cool surface to help enhance solar panel energy production.
One of the consistent leaders in metal shingles has been Classic Metal Roofing Systems' Rustic Shingle product line. This product was developed in 1959 by industrial giant Kaiser Aluminum. Classic purchased the product line from Kaiser in 1980 and has produced it ever since. As a result, Rustic Shingle is probably the most proven residential roofing product manufactured today. Other roofing materials have not proven the test of time but this product has remained relatively unchanged in the 60 years since it was first produced, now protecting hundreds of thousands of structures across the globe.
Whereas Rustic Shingle provides an attractive wood shake look, Classic also manufactures the Oxford Shingle product line for a slate look. Oxford Shingle is available in numerous colors as well as a slate print pattern. If you find yourself at the place of seeking a Roof for your Shelter, keep in mind that metal shingles provide an option that will add beauty, value, and energy efficiency to a home for the long term.
Classic Metal Roofs LLC can help you with your metal roofing needs. We are a leading provider of metal shingle and standing seam roofs serving homeowners, businesses, and architects in RI, MA, CT, and southern NH. Call us at (866) 660-6668 or fill out our Free Consultation form to learn more about "The Best Roofs Under The Sun"!