A Closer Look at Our Oxford "Slate" Metal Shingles
January 25, 2018 | By Mike Gonet | Filed under: Roofing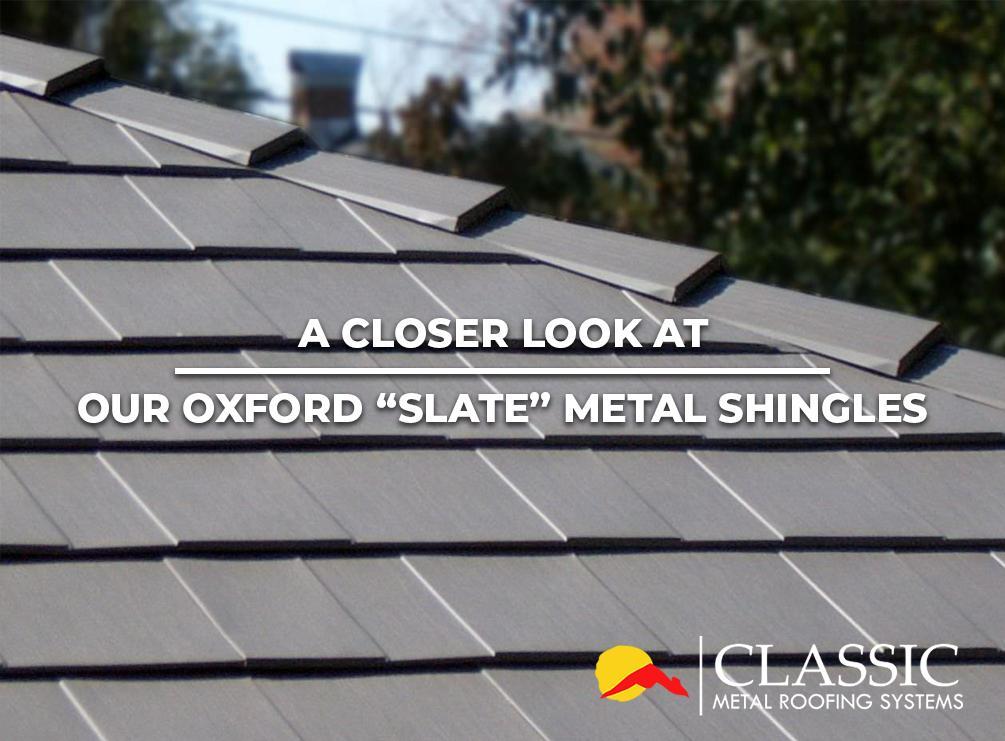 For years, Classic Metal Roofs has been providing homeowners with the proven design and reliability of our Traditional Oxford Shingle. This allows you to enjoy the look and texture of a real slate roof with the excellent benefits of a metal unit.
As the leading metal roof company, we understand the role your roof plays in your home's beauty and protection. This is why for everyone considering a replacement, we recommend our Oxford "Slate" roofing system. Here are its features:
Lasting Beauty
Our Oxford "Slate" is an aluminum roofing material that provides the classic and architectural beauty of slate. It comes in a wide range of colors and patterns that can complement a variety of home styles. Our Oxford "Slate" roof also comes with a baked-on Kynar/Hylar finish that creates a low gloss and rust-resistant surface, allowing you to enjoy your roof's unique beauty for years.
Superior Performance
Our heavy-gauge aluminum metal shingles offer you excellent protection from the weather. Their interlocking panels create a weather-tight barrier that provides superior durability and water- and wind-resistance, two qualities that are greatly beneficial during winter. Our Oxford "Slate" roofs are also ENERGY STAR®-certified, helping you enjoy better energy savings and a more comfortable interior. To maximize these benefits, make sure you turn to one of the top local metal roofers, Classic Metal Roofs, for a flawless installation.
Low-Maintenance
With our Oxford "Slate" roofs, you won't have to spend much time and expense for care and maintenance. This fade-resistant material is guaranteed to not chip, curl or crack despite extreme weather conditions. You also won't have to worry about any black streaks or staining that can ruin your home's beauty.
All these features are protected by a Residential Lifetime Limited Warranty. Experience these benefits for your home by turning to Classic Metal Roofs for a replacement. As an expert metal roof company, we have the necessary skills and equipment to ensure satisfactory results. Call us today at (866) 660-6668 to get a free estimate. We serve Westchester County, NY, and West Warwick, RI.