Does a Metal Roof Need a Moisture Barrier?
June 13, 2023 | By Mark Feller | Filed under: Blog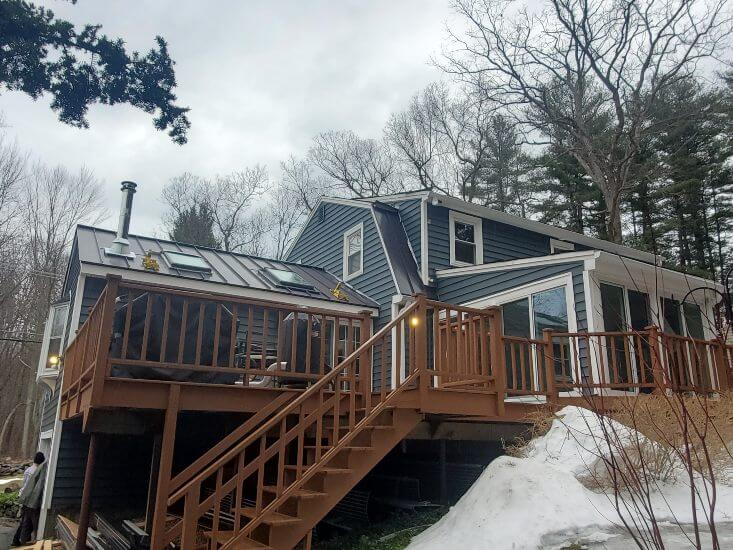 When it rains, it pours. But during a rainstorm, we don't often worry about how it's affecting our roof until we see signs of a leak. Nevertheless, moisture can be a significant threat to the condition of your metal roof, whether it comes from a storm or everyday condensation. But worry not—Classic Metal Roofs is here to help. We help New England residents install moisture barriers that will keep their roofs (and homes) safe in the long term. Find out why moisture barriers are essential.
The Basics of Condensation
Condensation is the moisture that accumulates on a cool surface when warm air comes into contact with the surface. We see this process in action all the time, from drops developing on a cool glass of lemonade to a layer of moisture forming on your windows. But you may not have considered the condensation that occurs on a metal roof. Moisture often develops on metal roofing panels and can make its way into nooks and crannies, leading to mold.
A Solid Moisture Barrier Is a Must
Metal roofs don't absorb moisture, and that means condensation is a big concern for homes with metal shingles. When mold starts to form on the roof, it can lead to nasty smells, a weakened structure, and a slew of other problems for your home. Luckily, there's plenty you can do to reduce the effects of condensation. Adding a moisture barrier to your home is a must. These barriers could be anything from an insulated attic to a ventilated crawlspace. Here's a brief overview of two common ways of reducing moisture:
Attic Venting: Properly ventilating your attic is crucial to reducing moisture in the air. We recommend adding layers of insulation to your attic to prevent condensation from making its way into your home.
Roof Underlayment: The roof's underlayment is vital for keeping water and moisture from damaging the roof's structure. Metal roofs often have plywood underlayments or layers made from other breathable materials. In addition to protecting your home from water damage, underlayments also minimize noise and reduce the need for costly repairs later on.
Get Help From Pro Metal Roofing Contractors
Ensuring your home has a proper moisture barrier is crucial for keeping your family safe from mold and mildew. Thankfully, Classic Metal Roofs is here to make sure the job gets done right. Metal roofs are the only thing we do, so you can rest assured that our team knows how to set you up with an appropriate moisture barrier. Our professionals have 20 years of industry experience and are excited to share their know-how with you!
Contact Our Team Today
Your search for a reliable metal roofing company is over! The team at Classic Metal Roofs offers comprehensive services when it comes to these durable roofs—we do everything from installation to custom gutters. Simply reach out to our friendly team, and we'll get you started with a free estimate. We're proud to serve the states of New Hampshire, Massachusetts, Connecticut, and Rhode Island.