"The Competition" vs. Classic Metal Roofs (Part 3)
May 18, 2017 | By Mike Gonet | Filed under: Articles, Education, General, Metal Roofing, Testimonials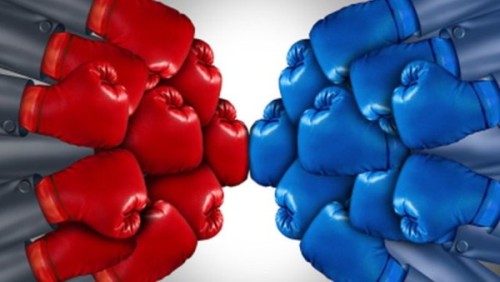 Who Should You Expect to Show Up from a Residential Metal Roofing Contractor for the Installation of Your New Roof?
(If you have not already done so, we suggest you first read Part 1 and Part 2 of our "The Competition vs. Classic Metal Roofs" series.)
Installation Practices
So you have decided on an aluminum metal roof for your home. You have made a great decision.
The next question you might want to ask yourself is who is going to install my new roof?
Is your roof installer a company employee, or a subcontractor? Why does it matter?
Is the company I purchased my roof from installing it with their own employees, or is some other company, maybe a subcontractor, going to do the installation?
You might ask, what is the big deal if a subcontractor is going to be installing my new metal roof?
How difficult is the installation of a metal shingle or standing seam metal roof product? All architectural metal roofing system installations (as distinct from agricultural metal roof installations) involve an interlock linking system for the roof panels. One might think it is a relatively simple process. It is not. The old adage applies: "If it were easy, everyone would be doing it." It takes ability and experience to master the process.
Asphalt roofing companies are now trying to sell and install metal roofing. Some metal roof manufacturers, e.g., Harvey Building Products, sell their wares through distribution channels who in turn sell to anyone in the roof trade. Ergo, the typical trade member can buy metal roofing no problem … but the typical trade member does not know how to install it. They lack both ability and experience. You could be their first! Would you go for heart surgery to a general practitioner, or to a cardiac specialist?
The East Coast is among the regions where metal roofing is showing the fastest gains in roofing marking share. You could almost say that there is a metal roofing revolution going on here. With that growth in this segment of the roofing industry you can be sure that many will attempt to capitalize on its new popularity, including many newcomers – basically rank amateurs. Therein lies a challenge for the homeowner.
When you – a homeowner, builder, or architect – decide on an architectural metal roof for your home or project, you want to be sure that you will get a quality installation by professional metal roof installers. Now we ask, which is the more likely source of a quality installation: a specialty metal roofer who has been in the business for decades with experienced employees, or the low-cost-bidder subcontractor of a roof marketer? We believe the odds favor the former. But one need not decide based solely on generalities. One can tip the odds further in one's favor, as we have already recommended in previous parts of this "Competition" series, by engaging in some pre-investigation of your candidate roofing companies.
Determining who will be installing your roof
How does one determine that the people installing the roof are employees of the company who sold them the roof? One sure way is to perform an online investigation. There is a ton of information that you can find out about a company online. Calling references is also a good way to get a sense of who did the installation for a company. A few questions one could ask are: "Did the crew show up in a company truck?" Did they have a company job trailer that was marked with the company name and logo?" "Were the installers wearing company uniforms so they can be easily identified?"
Pictured below is an interlocked shingle metal roof sold by a competitor and installed by a subcontractor. You can see that the roof is coming apart. Nor is that the only problem going on with this roof! An unfortunate choice.

Interlocked metal roof sold by a competitor, then installed by a subcontractor hired by the competitor.
When a company representative shows up to present their offering, the company truck is also a good indicator of who will be doing what. Is the truck a "work truck" with ladder racks and trailer hitches? This would be a positive indication that a company does its own work.
Does their truck look more like a moving billboard for metal roofing, done up to attract attention while traveling down the road? Usually this would point towards a sales and marketing driven company, as opposed to one that does its own installations. Especially if it shows no signs of being a work truck.
Quality equipment begats quality installations
The quality of a roofing company's equipment correlates strongly with the likely quality of your metal roof installation. At Classic Metal Roofs, we strive to set ourselves apart. Our latest improvement has been with the addition of the Equipter RB4000 roofing trailer, shown in the photo below. A subcontractor would not typically invest in this type of equipment. A metal roofing company that does not have its own employees would probably not buy this type of equipment and then let just anyone use it. It is strictly for the professional roofing operation that has trained its employees in its proper use. Stripping roofs can leave a huge mess, and you could be picking nails and other roof debris off your lawn for years after the project is complete. The Equipter "NEW ROOF NO MESS" solution is a costly one for mitigating that problem. It is, however, the best solution available and an investment that Classic Metal Roofs is willing to make to earn your business. The Equipter RB4000 is a piece of equipment that places the homeowner's concerns first.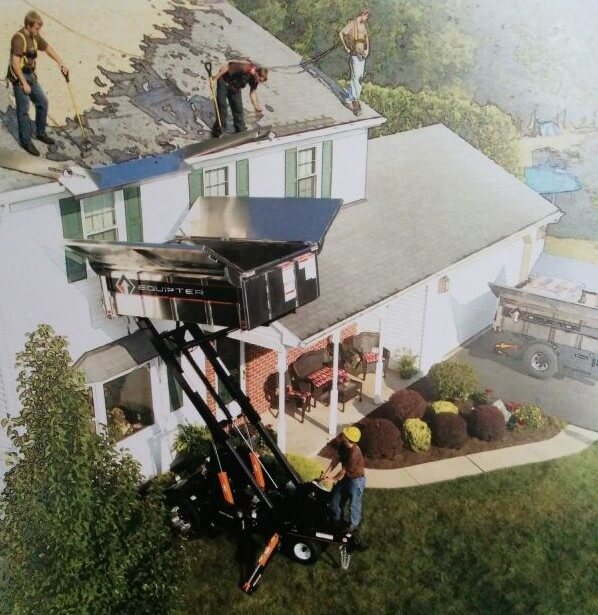 Equipter RB4000 "New Roof No Mess" roof trailer at work
Advanced metal roofing companies use their own employees for installations. Those who do not do so do not because they are largely sales and marketing companies, rather than true contractors. Their sub-contractors get paid based on the size of the installation. To the best of our knowledge, most of the metal roofing companies selling roofs do not own actual metal roofing equipment that is required to do a metal roof installation. What we have been able to glean from the marketplace and the internet is that the installation could be categorized as a "crap shoot." You might get a good install … or you might not. Either way, subs get paid by the job, not hourly, and are NOT company employees. This is what we have been told by former installers from these various companies who have interviewed for positions with our company. They are not metal roofers or metal mechanics; they are roofers trained to install the particular product that a metal roofing company sells exclusively.
This is a very risky bet for the homeowner. Clint Eastwood's famous line from "Dirty Harry" – "You've gotta ask yourself one question: 'Do I feel lucky?'" – applies here. Do you want to be the butt of the joke after investing over $25,000?
Here is an example of a sales and marketing metal roof company truck. Nice marketing graphics on the truck! Where are the ladder racks or trailer hitch for the equipment? It does make a nice show, though!


A marketer's truck – ready for talk, not action
The graphics on this vehicle pictured above are over the top. They are designed to get someone's attention. Where do you carry the tools? This must be the salesman's vehicle. That is quite the splash on the marketing, guys. Big splash, no content. So then … who installs your roofs??
When you deal with Classic Metal Roofs, you are only dealing with Classic Metal Roofs
Pictured below is one of our company rigs, complete with trailer and truck, at a new construction job site in Dayville, Connecticut, on the lake.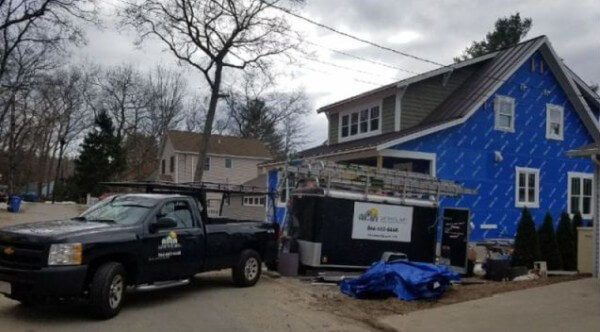 Classic Metal Roofs crew at work on a Classic Metal Roofs job
Classic Metal Roofs installs all types of metal roofing. Our metal mechanics – our own employees – can install anything from custom fabricated copper, zinc, and aluminum to factory supplied standing seam or metal shingle products. They can fabricate, solder, and install any flat lock, architectural metal roofing, or metal wall system product. Classic currently has 3 crews with 4-5 men on each crew. We operate each crew with a foreman. Each foreman has a truck and job trailer. Our job trailers are literally workshops on wheels. Our company also employs a project manager who oversees each project and works directly with either your project manager, if you are a general contractor, or you, the homeowner. We service all of southern New England – Massachusetts, Rhode Island, Connecticut and southern New Hampshire. We have also installed roofs on the Maine coast and Westchester County, New York.