"The Competition" vs. Classic Metal Roofs (Part 4)
May 26, 2017 | By Mike Gonet | Filed under: Articles, Education, General, Metal Roofing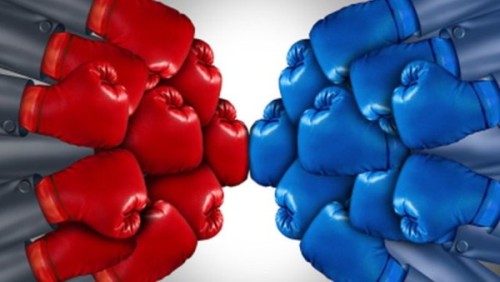 If you have not already done so, we suggest you first read Part 1, Part 2, and Part 3 of our "The Competition vs. Classic Metal Roofs" series.
So you have decided that a metal roof might be the right solution for your home. The final decisions to be made are what product or products will you use and what color? The quality of the product will, as we shall see, be intimately tied to the strength of the factory and installer warranties offered on the product.
Material Thickness Matters
Let's start with some basics before we go any further. Steel roofs, which include galvanized roofs, are measured in thickness by gauge. Aluminum roofs are measured in thickness by thousandths of an inch. The way the scales work is simple, but different. As you go down in gauge, for example 28 gauge to 24 gauge, the steel product is thicker. With aluminum, as you go up in thousandths of an inch, for example from 019 to 024, the material is thicker. How important is thickness? If you were buying gold coins and all the coins were the same diameter and alloy composition, but one was 30% thicker, wouldn't you agree that the thicker gold coin is worth 30% more than the other? Which coin would you prefer?
As with coins, all metal roofs are not the same. The thickness of the material matters. After all, it is what you are paying for in the end. The thicker the roofing material, the better the protection for your home.
Several competitors offer aluminum shingle styles; however, they are all in 019 thicknesses. Some of them offer shingle styles in steel as well. They also offer a standing seam product in both aluminum and steel. It is our opinion that steel products do not belong on anyone's home. They will rust, and NO manufacturer warranties their product against rust. They can't; steel rusts, including those steel roofs coated with a galvanic coating. These coated roofs are only good if the roofing material is not cut, which exposes the steel beneath, and unfortunately cutting is inevitable during any metal roof installation. For more information on the differences between aluminum and steel, see our blog post here.
Classic Metal Roofs offers aluminum shingles in 2 styles. The Rustic shake has the look of hand-split wooden shakes and comes in 019 thickness with a high-density foam backer insert. Our best-selling shingle, the Oxford "slate", comes in 024 thickness (with no insert). The aluminum standing seam we offer has a thickness of 032 and comes in multiple widths of 12", 14", 18", and 20". The standing seam that is offered by the competition is available in only a single width, to the best of our knowledge, usually 16". The competitions' product thicknesses are unknown. All of our products are installed with independent clip systems that allow for the natural expansion and contraction of the roofing material. This is an important feature in all architectural metal roofs and its presence or absence should not be taken lightly. Check the system you are considering, and if it is not attached with a clip system, you may want to reconsider. The competitions' shingle products, that we have seen, have all been installed with a built-in flange as part of the product. There are no independent clips to allow for expansion and contraction of the metal.
What are my color choices?
The shingle color choices offered by the competition are limited to between 8 and 11 colors, depending on the company and product. One of our competitors' products is coated with what they call Alunar® – which is a marketing trade name rather than a coating product. What this coating amounts to is Kynar with a TEFLON® additive, as best we can tell. The jury is still out on this coating, as it has failed here in New England, demonstrated by photographs below. We do not know how many roof coatings have failed. Coatings are discussed further below in this post. Also, below, we have an info-graphic which includes some differences and similarities of warranties between the two companies. They do offer a 50-year Limited Lifetime materials warranty, non-prorated and transferable. We have not been able to verify the labor and workmanship warranty but have been told by their customers that it is for 10 years.
Here is some detail on the Alunar® coating warranty (an actual section of their warranty): "The Manufacturer further warrants that for a period of thirty (30) years from the Substantial Completion Date, the Product's Alunar® coating will not, under normal atmospheric conditions (this excludes corrosive, aggressive or industrial atmospheres such as those contaminated with acidic or chemical fumes): chalk in excess of a numerical rating of eight (8) when measured in accordance with the standard procedures specified: ASTM D659-80 or fade or change in color in excess of five (5) E units (NBS) calculated in accordance with ASTM D2244-85, paragraph 6.3.
We have never seen an actual instance of a standing seam installation of this company's in New England. We only have the professional studio photograph below.
Classic Metal Roofs, LLC is a dealer for Classic Metal Roofing Systems, Inc. and Englert Inc. We also have access to a number of other factory products including the Revere Copper line of roofing. Make no mistake, we are NOT a factory. We are an actual metal roofing contractor. The products we offer are manufactured from 019-032 aluminum, 16-20 oz copper, or zinc. We sell both shingle 024 thickness and standing seam 032 thickness, and the number of color options we offer ranges from 10 to 30, depending on the product. The Aluminum products are coated with Kynar 500® PVDF resins with a 70% strength, the best available in the roofing industry. (See coating warranty details immediately below.) The warranties that we issue are for roof installations by our company. They include labor and workmanship for as long as the original owner owns the house. The factory warranties that are available on materials vary from factory to factory. If you would like a copy of one or all of our warranties, please request them by phone. They are limited lifetime warranties, 50 year transferable non-prorated.
Classic Metal Roofing Systems, Inc.'s factory coating warranty: "The finish on the Products will not chip, peel, flake or blister under conditions of ordinary wear. The Products will not fade or change color in excess of five (5) Hunter E Units as measured using the procedure of ASTM D-2244-79 (comparing an unexposed panel to the exposed panel after removal of dirt and chalk) for a period of thirty (30) years after installation. The Products will not chalk in excess of ASTM D-659-80 rating eight (8) for a period of thirty (30) years after installation."
Below is a Classic Metal Roofs, LLC aluminum standing seam roof installation. There are hundreds of similar installations all over southern New England, and we are happy to share a list of those visible from the road upon request.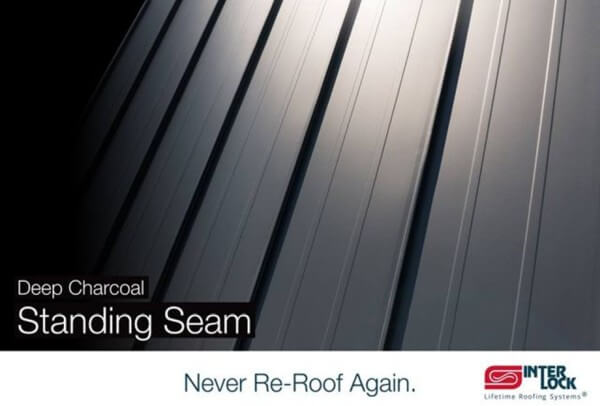 General comparison of the Two Aluminum Shingle Product Lines, Including Typical Warranties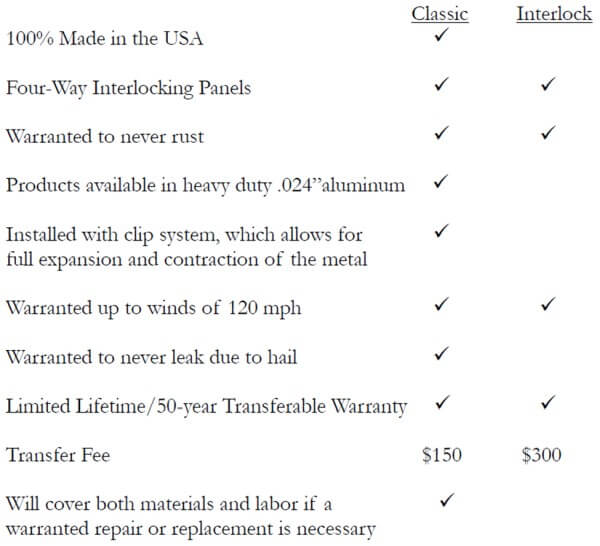 The table above lays out much of what we have discussed above and also contrasts some factors covered elsewhere on this website. One can see that the warranties on the coating are the same. Augmenting the coating with an additive does nothing for the warranty. In fact, the very idea may be problematic, as evidenced in the pictures below showing the coating not only fading but peeling, as well.
Failed Alunar® coating. We think TEFLON® belongs in the kitchen not the roof. What do you think?
A Quick Look at Aesthetics
This (studio) picture below is an actual Interlock roof. The pattern is similar to a bathroom tile installation – not a particularly desirable look for a high-end metal roof.
InterLock roof tile pattern – nice if you like the bathroom tile look
This picture below is an actual hip roof (a type of roof) section using the Oxford aluminum shingle in the color "shake gray". The pattern is designed to look random, like slate normally would; it is a more organic natural look.
Classic Metal Roofs Supplies the Options
When it comes to product choices and colors no one in the industry can offer more options than Classic Metal Roofs, LLC.
From combinations of metal shingles, with standing seam accents, to bay windows, with copper, zinc, or aluminum roofs, we do it right. All installation elements are custom-fabricated or roll-formed on site. We offer the best roofing warranty in the roofing industry. These warranties are limited lifetime warranties to the owner. The warranties are non-prorated – which means that the full value, or original cost, of the roof is warrantied for the lifetime of the original owner, and transferable for up to 50 years. (E.g., if the original owner sells the house after 20 years, the roof is warrantied by the factory for up to 30 years.) Classic Metal Roofs offers a nontransferable full workmanship and labor warranty to the original owner for as long as they own the house. All we can generally assert about the competitions' warranties is that they contain many exclusions; some include workmanship, but not labor; most are non-factory warranties.
Call us today to request a free consultation. Not ready to make the decision yet? Request your free copy of The Ultimate Guide to Metal Roofing, which will get you on our email list and enable you learn more about our company and products.